Hey - Happy New year.
Got a quick story .
About 2 years ago i got a call from a girl "Bridget" with a horse with a chronic quarter crack. This is an idea of what it looked like. Let me explain: Sometimes quarter cracks will mend just by notching the whole rear part of the hoof wall from the quarter crack all the way to the rear so the hoof doesn't touch the shoe. In this case there was nearly 3/8 of an inch notch. It wasn't enough for Zeus's quarter crack to start mending at the hairline/coronary band and so in this case i needed to go to the next step and take more agressive action mending the crack which as you can see is quite wide. But notice how long the toe is still on this front foot and this is after i had already taken a whole lot of that toe to the rear. The long toe puts improper stress on the hoof wall and POP there you go , a quarter crack develops.
This crack had been there for 2 years and story was several farriers tried to fix this unsucessfully.
Now there are some really fancy methods of lacing quarter cracks farriers are doing out there : Dremel tools used to section the hoof wall all the way down to the lamina , then drilling holes and using metal sutures to pull the crack back together and finally a plastic reconstruction/rebuilding of the hoofwall where it was sectioned. i'm going to approximate ( out here in the bay area California ) work like that will cost you 250-300$ for one foot. If the money is no issue and you have no problem with that then great you'll see some really fancy quarter crack repair for your horse and it will work and very well. The bottom line is getting your horse out of trouble and repairing the crack.
I've dealt with quarter cracks and have always used conventional methods and have always been able to repair the problems but for the longest time i've always felt if there were some way i could use a hose clamp it would be a perfect method to squeeze a quarter crack together and that's what i'm going to show you here.
You can notice here in the below picture Zeus's foot was very out of balance which is also why he popped the crack in the first place.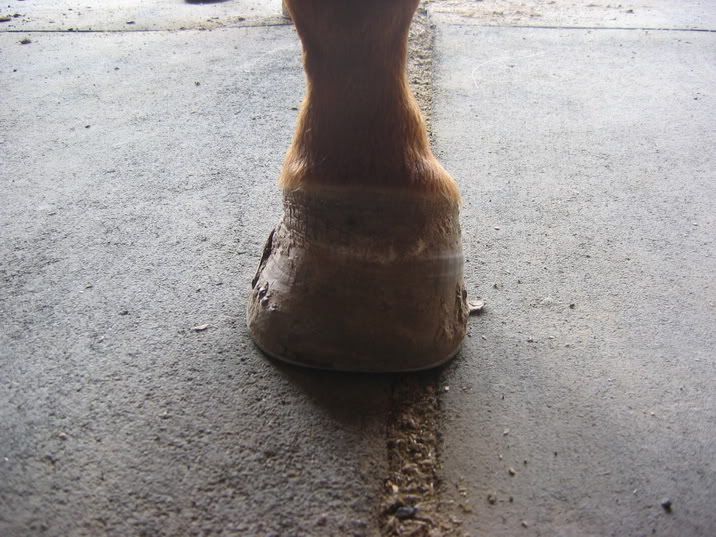 So here is where i went ahead and used the hose clamp. It was quite easy / worked Perfectly and i didn't have to use plactic fillers and since i had so much control of applying a squeeze to the crack with the clamp i didn't have to do any sectioning with a dremel tool - all adds up to keeping the cost down to the client. Next Photo Please.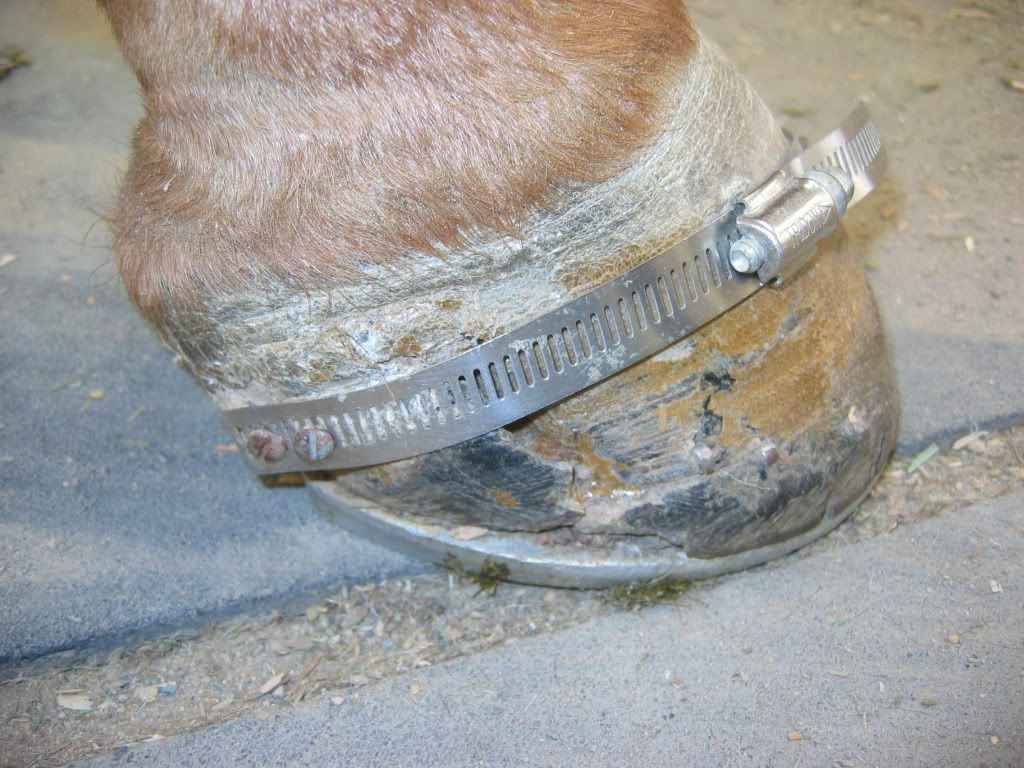 That's the clamping method. It was simple: Drill a hole or two in the rear of the hoof wall to fasten a length of the clamp slotted band. Fasten the screw mechanism of the clamp to the front of the hoof wall in the same drill/screw manner , insert slotted band into mechanism and tighten up with screwdriver and just watch it pull that crack all the way back together as far as it can go. And That's It !!! I did wrap the foot with some vet wrap just to keep the clamp from being ripped off by anything .
That photo you're looking at above is already showing mended hoof wall at the coronary band. I did not even have to notch the rear section of the hoof to keep it off the shoe.
Below is what Zeus's foot looks like today - Quarter Crack repaired and much of the balance restored.
To get balance restored sometimes takes a couple years. Since it takes approximately a full year for the hoof wall to grow a completely new hoof only so much correction and balance can be restored during the first year "Cycle" then the next cycle starts and more adjustments made to shoeing resulting in more balance. This was the case for Zeus. By the way - if any confusion the foot is the right front.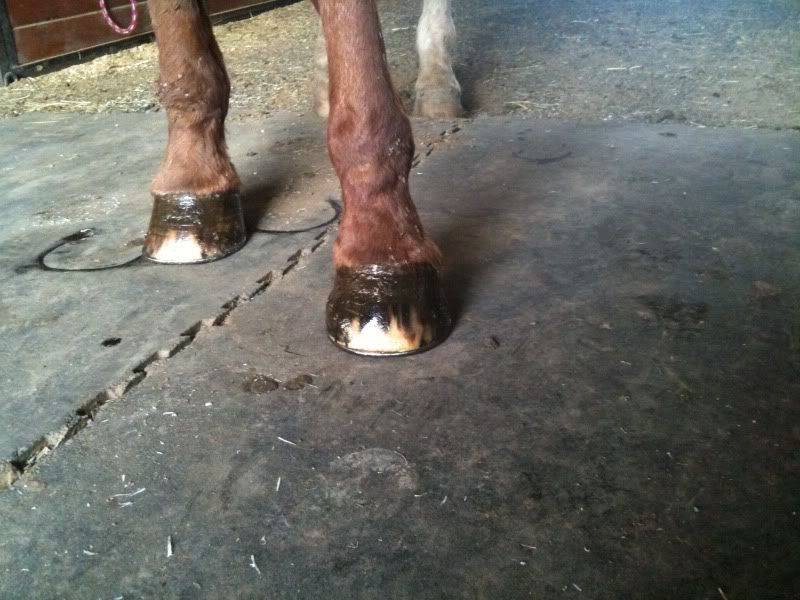 There was one setback with Zeus. Last year his feet had gotten very wet during the winter and the hoof wall actually drifted out of place , the whole hoof wall shifted position and was not under the leg correctly .
Winter can be extremely hard on your horse's feet . Hoof wall gets soft if there's alot of wet ground and if your horse has a habbit of standing on not so flat terrain that hoof wall is going stretch and bend out of shape. That's a recipe for disaster. It takes so long to generate new hoof wall and make corrections and all it can take to ruin it all is one week of wet weather and the slanted hill your horse stands on or something similar and months of work is Lost. So that was my round and about way of saying to keep special attention to your horse's feet during winter months , barefoot or shod it's not a good idea to let hoof wall drift when it gets soft.
So that's it for this time.
Any Questions ? just feel free to email me directly : John@Care4Horses.com it's consultation at no cost to you.
As usual Happy and Safe riding and always remember to www.Care4Horses.com
Oh ! you may also want to take a peek into my personal horseshoeing blog at :
Http://Farrieritis.Care4Horses.com
HAPPY HOLIDAYS
John "TheFootDoctor" Silveira signing out - take care.