03/18/09
A great big HELLO.
Getting ready for riding season? hope so.
There's an area of shoeing that gets under attack alot and that has to do with a statements made mostly by the barefoot crowd; what's usually said is putting shoes stops the hoof from expansion and contraction in the heels thereby stoping the important need for blood pumping in and out of the foot.
I shoe horses as you know, going on 19 years now, i've heard just about enough about this expansion issue. LOL I'm not in defense of shoeing because i'm a Farrier i'm more a warrior of the truth. Most of my clients shoe their horses because they have chosen to do so. They are informed and armed with knowledge and have made an educated decision. The very few people who i serve that want their horses to be barefoot is just fine with me their horse or horses go barefoot , i just don't have an issue about it and it's not about income or my income. This is just about fact - so i'm just going to jump in and show you the following photo.
Just look closely at the heel area of the shoe.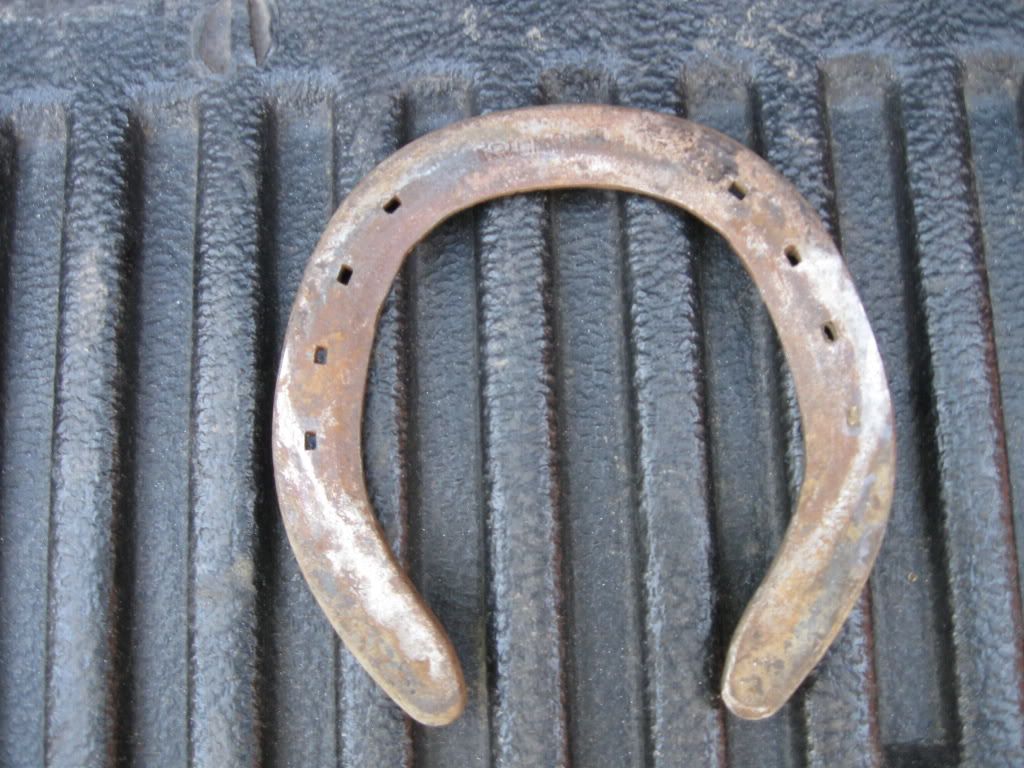 This shoe was taken off after a normal 8 week cycle. Obviously this is surface of the shoe that contacts the hoof. Do you notice like i do that area on both sides of the shoe where the rust is actually worn away - it's got the look of shiny metal there ? On the left side of the photo the shiny metal runs from the last heel nail hole all the way to the end of the heel of shoe. On the right side you can see the shiny metal from the next to the last heel nail hole and again allthe way nearly to the end of the shoe. You can't see it here in the photo but that's NOT just shiny metal - that's actually a GROOVE worn right into the shoe - a significant groove at that !
The important part of noticing this wear is the the width of the wear on both sides of the shoe which is obviously indicative that the heels of the hoof wall are in fact still expanding and contracting continuously even with a shoe on ! Hello you barefoot people ( god love you ) who claim shod horses don't have heel expansion - well take another look here , it's very clear heel expansion continues in spite of shoes. Those grooves you are seeing there on the shoe are approximately 1/4 inch wide - combined that's approximately 1/2 inch of heel expansion and contraction. WOW !
If you're thinking well that's just the shoe slipping on the foot i'll have to disagree completely - if that were true ( the shoe slipping on the foot ) why then is there no slippage wear all around the whole toe area as well if the shoe is slipping right ? If the shoe was slipping on the foot ( a loose shoe ) there would be wear everywhere.
I'll say this again - i've been shoeing horses for going on 19 years . that's just NOT a couple weeks guys that's years and years and hundreds and thousands of feet i've shod - To this day i have not had one horse come up lame from the method of shoeing i use . Well anyway.
I don't have a problem shoeing horses - i have a problem with horses being shod incorrectly. If you'd like more information please go to my personal blog where there's quite a bit more discussed ---> http://Farrieritis.Care4Horses.com
An update : "Inside Horseshoeing Secrets of Lameness Prevention" is my book that has recently been completed , discusses everything i know how to recognize if your horse is being shod incorrectly and you're at risk of lameness. It's going to be available for downloading very soon , what's exciting is it will also be on Amazon soon as well.
Great news is you can get the eBook downloadable version for FREE - just leave me a note at John@Care4Horses.com
thank you - hope all is well.
Any questions can also be directed to John@Care4Horses.com
take care
John "TheFootDoctor" Silveira