Hello, John here once again. How are you holding up through this winter?
I'm excited ! Have finished writing the eBook: "Inside Horseshoeing Secrets of Lameness Prevention", it's getting the final edit now. Will provide links for downloading any day. The eBook's free to download , will be available at Amazon for hard copy for 27$ and at Kindle for 17$ This eBook is my 18 year study and 100% record shoeing horses "not one single lame horse" due to the methods i use that were not taught me in the horseshoeing schools or textbooks. Well i won't go into it here i'll just recommend you get your copy as soon as you can. Thanks.
Now i am on a roll today - as i've mentioned i have a personal blog that i have maintained for almost two years http://Farrieritis.Care4Horses.com the other day i got a comment written in there , a negative one for the most part. I'll just give you the quick rundown.
The comment was about my post called "Barefoot Horse - Movement or Cult?" I have to say the only negative remarks i get on my blog are from the barefoot people. Interesting - to be honest i really don't have a gripe about barefoot horses , i'm not opposed to horses being barefoot at all - not one bit , so i'm really not even opposed to the barefoot "People" lol
So on the post in question there was a photo of a horse that had very long toes (out in front ) and the horse was on the verge of going lame. There was some bruising around the white line within the lamina as well as bruising in the sole at the tip of the coffin bone obviously from coffin bone rotation (not permanent rotation - but rather rotation caused by the long toes ). The photo showed the foot having been cleaned out very well - to photograph for the blog post. It was safe to clean the foot to that extent as the horse had very thick soles and hard so vulnerability to being ouchy after the shoeing was next to none. Shod the horse and he was just fine.
The comment i recieved started out with the man saying "The Horse obviously has foundered". So right away this perons is telling me that just by looking at the photo the horse had foundered - i'm here to tell you the horse has "Never" foundered in it's life. The next statement from the person was to the tune that "what i am teaching is flat out Dangerous". You know my point of explaining this now is "Only the Barefoot people are so outright Rude". They seem to take so much offense at any disagreement with their beliefs. And there are a couple things that i disagree with in the barefoot practice.
DANGEROUS the man says . I just have to laugh. First off , the very first time this person opened his mouth with me he inserted foot in mouth - The horse had never foundered . Second - DANGEROUS? Not to toot my own horn - but this person doesn't know me or what i've been doing shoeing horses for the past 18 years. Dangerous he says . Let me examine things for a minute. OK , 18 years. Not just 5 days shoeing horses , not 5 weeks of shoeing , not even 5 months , jeese not even 5 years - but 18 LONG YEARS. So it's not just one or two horses , not even 20 or 30 different horses. I'm looking at 18 years and hundreds and hundreds and hundreds of different horses that i've shod - Which means i've shod and put shoes on thousands and thousands upon Thousands of individual feet. WHEW !!! AND the kicker is Not one Single one of the horses has come up Lame from the methods i use. I'm talking no hemotomas , no cracked coffin bones , no blown tendons , no bowed tendons, no blown check ligaments etc etc and all in all i'm talking serious improvement of performance.
18 years should be enough evidence to safely say "something's being done correctly - it's not a coincidence". Add to that the thousands of individual feet - thousands and thousands with no problems sorta solidifies the track record. Yet to this person - this BAREFOOT person i'm DANGEROUS. Good lord. Like i mentioned already " Only the Barefoot People".
The Message "Be careful with what you decide to believe in ".
I know more than one Vet , what is said is "Most of the problems seen with lameness is with the Barefoot Horses / the barefoot proponents".
Well anyway. I just needed to say that.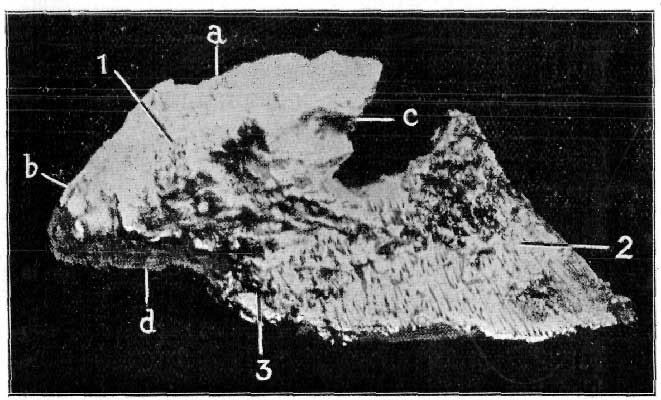 Just want to leave you with this photo of extreme calcification to study. That big mass of hardened area above the coffin bone used to be soft and flexible.
I'll be in touch . take care .
As usual Happy and Safe Riding and always remember to www.Care4Horses.com
John Silveira