01/05/09
Happy New Year , hope your 09 will be fantastic. You have 5 more days to get in on the FREE HORSE GIFT GIVEAWAY EVENT !! Hurry and go there if you want to pick up some nice gifts. Right Here ----> http://Free-Horse-gifts.com/go/john@care4horses.com
Well i found some photos the other day that i found very interesting and thought provoking as well, here some are and hope you enjoy them
Now if all horses could be this willing i suppose i'd wake up with bigger smiles in the morning. Is your horse this well behaved (-:
This next photo got me thinking about the barefoot movement and one of the biggest arguments, namely: putting shoes on horses stops the frog from getting pressure minimizing blood circulation. Please look at the photo - what do YOU think - Do you see any reason at all why that shoe would prevent any kind of frog pressure at all ? Just look , the frog is totally exposed to pressure from practically every direction imaginable. By the way i love that shoe and wish i had some myself !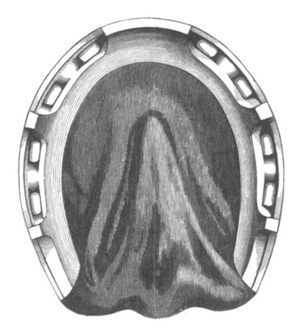 This next photo is scarey ! Extreme Coffin Bone rotation most likely from a horse foundering as i've never heard of such extreme rotation in any other situation. Look how the point of the coffin bone has pointed down and piercing the sole, right about at that time the foot would be bleeding profusely.
You want one more? This next one is of a foot developing extreme flare. In this case the flare seen on the right hand side of the photo is causing the left side of the foot to be pulled in the direction of the flare , that's why the left side of the foot is rounding and curling under. You'll also notice the coffin bone is not level either - it's sloping toward the right with the right hand side lower than the left putting stress on the coffin bone joint.
There has been some talk abouit Uniform Sole Pressure lately that i've been hearing. The method is almost as though everything hinges on Uniform sole pressure , i'm not opposed to the method my point is everything i have been doing with horses feet over the past 18 years promotes equal sole pressure as well.
I'm going to go for now , i'll be bringing more photos next time. I still have time for FREE consultation , Just email me your questions and concerns as well as a photo or two if you feel it necessary and i'll work with you to get your horse right. Just get ahold of me personally at John@Care4Horses.com
Till next time -------- Happy New Year
John "TheFootDoctor" Silveira
as usual : Happy and Safe riding and always remember to www.Care4Horses.com