07/28/08
Hello , The Foot Doctor here , how you enjoying the summer ? I've been working pretty hard on the EBook "Inside Horseshoeing Secrets of Lameness Prevention" . It should be available soon - this is a free publication . To get on the early notification list just leave your name and email with me at John@Care4Horses.com
Ok - jumping in . This photo below was from a client of mine who called me Once ! Just once to come out and shoe her horse. When i got there i was shocked to understand how anyone can let their horse get in this condition. Here , take a look for yourself .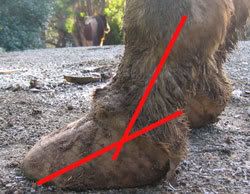 This foot has extreme stretch going forward ( excess toe ) for starters. Fortunately this horse's foot was soaked in water otherwise the heels would have been stretched forward with the hoof as well - so the heels are actually in pretty good shape.
This type of neglect is terrible. I've seen horses that have been left like this with their fetlock joint almost banging the ground from all the deep flexor tendon stretch that occurs when the toe lengths get this long. When that happens there's no recovery , the horse is ruined .
I'm just going to post the photo of the foot after it was repaired / fixed so you can see the difference.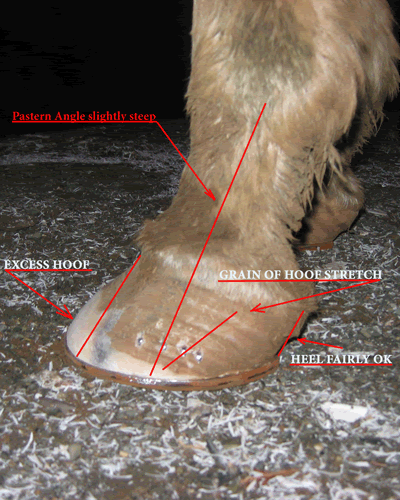 This was as much repair as i got away with the first time - unfortunately i haven't heard from this woman for about 10 months so i wasn't able to follow up with more corrections. You see at the toe there is still excess toe sticking out in front of the foot.
Now take a look at where it says hoof grain. Some farriers use hoof guages to set the angles of the foot , doing so really doesn't make much sense as the guage uses the front of the foot which more times than not produces an inaccurate measurement. The best method of setting angle is by using the grain in the foot right there where i drew the red line. That red line there ( the grain of the foot ) should line up with the pastern angle ( the red line demarked as pastern angle ) , this is the most accurate measurement for setting the coffin bone to it's correct position. As you can see this foot needs to be stood up more before the grain will line up with the pastern.
Mostly what i want for now is to keep training your eyes so you know what to look for with your own horses . Later we'll get more into the fix's. This way you'll have a deep understanding of what's actually happening with your horses feet. The more you know the more is reflected in your riding (you'll be taking care of your horses feet as you ride ) .
Two more things before i go. This months ( July ) horse head hoof pick winner will be announced in three more days on the 31st. Keep tuned in you may be the next winner. If you haven't entered into the monthly drawing just leave your name and email address with me at John@Care4Horses.com it's easy, just do it. John@Care4Horses.com
Secondly , you can still get any horseshoeing consultation / evaluation by me at no cost to you whatsoever. Send me photos of your horses feet and whatever questions you may have , again , just get ahold of me personally at John@Care4Horses.com
Ok - have a good one ,
as usual happy and safe riding and always remember to www.Care4Horses.com
John "The Foot Doctor" silveira