Horse Thrush Treatments
Equine Feet
Sunday 14th of August 2011 11:22 PM
Perfectly Healthy Frog
(Above)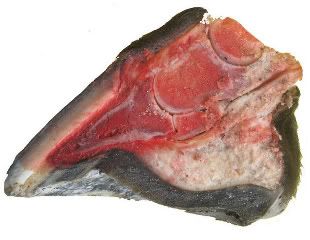 This is what a cross cut of a sound frog is supposed to look like.
(Above)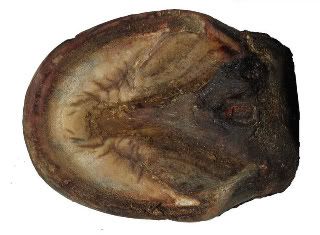 When the frog suffers thrush it´s protective capabilities become impaired and the nerves in the digital cushion become exposed and irritated.
(Above)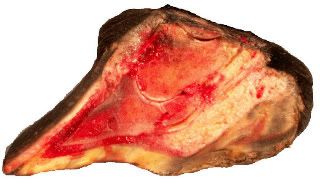 This is what frogs usually looks like. The frog is diminished to a spongy tissue with no protective capabilities.
(Above)


As you have discovered, there are many treatments that are supposed to clear up thrush, but don't. That's because there's a critical part of the treatment that most owners do not recognize: Cleaning up the affected area before you treat the problem. Here's a quote from Michael Wildenstein, American Farrier's Association, Certified Journeyman Farrier, resident farrier at Cornell University's large animal hospital: "Thrush is the most common bacterial infection (of the hoof); it reduces the protection by the insensitive frog. Thrush that invades the central sulcus of the frog can enter the digital cushion, causing inflammation of the sensitive tissue. Treatment of thrush includes daily cleaning of the infected area with a brush (stiff enough to scrape out the debris). Then, and only then, treat the area with a suitable antibiotic preparation.

1. Thrush relief gel usually kills the thrush-causing organisms overnight. Just remember to keep the horse's environment clean and dry to prevent reoccurrence.

2. Equine Relief Body Wash can be used for horse hoof problems like thrush. Follow this wash with thrush relief spray and repeat up to three times in one day. This, too, can usually cure thrush overnight.

3. If you use a home-remedy horse thrush treatment like iodine or betadine, be advised that you will have to treat the affected hoof for at least a week and that, in many cases, the thrush comes back.

4. You can avoid equine veterinarians by using things like chlorine bleach and hydrogen peroxide, but keep in mind that these agents may stain or irritate your horse's healthy skin.

5. Treatment for horses with thrush includes twice daily picking of the feet, taking special care to clean out the two collateral grooves and the central sulcus. The feet may then be scrubbed clean using a detergent and/or disinfectant and warm water, before the frog is coated with a commercial thrush-treatment product, or with iodine solution, which may be soaked into cotton balls and packed into the clefts. There are also several home remedies, such as a hoof packing of sugardine (a combination of sugar and betadine), powdered aspirin, borax, or diluted bleach. It is best, however, to speak with the horse's veterinarian, to be sure that these home remedies are effective and, more importantly, safe for use on horses.

Horses with thrush, or those at risk for contracting it, are best kept in a dry, clean environment. Daily cleaning of the hooves also contributes to the prevention of thrush. In general, thrush is relatively easy to treat, although it can easily return and it can take up to a year for a fully healthy frog to regrow after a severe infection.
---
Response 1
Wednesday 23rd of April 2014 04:43:28 PM
Submitted by: Terry Whitman
If I may introduce myself to you. My name is Terry Whitman. I am a farrier and lameness specialist. I am very interested in educating the horse owner about the Natural Balance trimming and shoeing. This is a completely unique procedure for the equine foot. I am a member of the Equine lameness prevention organization (ELPO) in Colorado. I have a power point presentation that we offer to the public. This is a must see for any horse owner, farrier and even vet. If you are interested please go to our website and click on the contact us or respond to this email. You also can call Terry-817 597 8782 or Rebecca- 337 309 3890. Thank you so much for your time. Terry Whitman & Rebecca Attales Whitman Farrier Service, LLC. whitmanfarrier@icloud.com
---