Trail Rides, Cell Phones and ID
Equine Articles
Wednesday 17th of February 2010 02:25 AM
Article Submission-By Joanne Rummel www.havanoranch.com

Now that the weather is improving, everyone is tacking up and hitting the trail...sometimes literally.

When I lived in Tucson, I kept my horses and worked at one of several boarding stables that were located close to a dry river bed where "everyone" rode their horses.

As I went about my chores one warm day in mid-May, two fully tacked horses without riders wandered into the stable yard. They were sweaty and appeared to have run through some cactus. One had apparently stepped on her reins, since there was only about an inch of right rein attached to the right side of her bit and about three inches of left rein attached to the left.


Where were the riders?

One of my co-workers and I led the horses to a shaded area, loosened their cinches and gave them a little water as we searched through the saddle bag of the mare, trying to figure out where—and to who—these horses belonged.

Ah ha! A cell phone! I flipped the phone open and searched the menu, trying to figure out whom I should call first, then saw a menu listing for MOM. Good place as any to start, so I pressed SEND.

…and a cell phone in the saddle bag of the other horse started to ring! The caller ID on that phone said "Denise". Great.

There was still no sign of the riders of these horses. We called the police, gave them a rundown of the situation and told them that we were getting ready to mount up and go out to look for two people, but we had no idea who they were—other than one was MOM and the other was "Denise"—or what condition they were in.

Just about the time we were ready to ride out, two hot, sweaty, red-faced ladies emerged from one of the trails leading out of the dry river bed. It was MOM and Denise! Other than having a long walk they were both fortunately okay. They had dismounted from their horses to adjust their tack. Denise had used her reins to tie her horse to a mesquite tree and the mare spooked, breaking the reins. Naturally because her horse spooked the other horse did likewise and they both ran off, leaving Denise and MOM behind in a cloud of dust!

Moral of the story: Although there is a love/hate relationship with cell phones, they have become one of those evil necessities that we cannot seem to live without. However, keep a few things in mind while you are on the trail.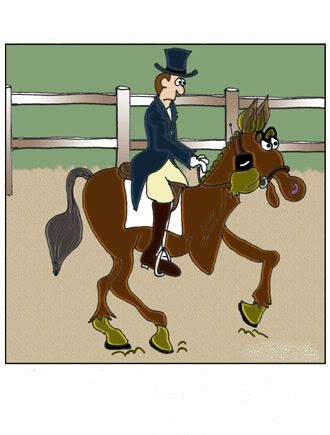 1. Keep your cell phone on YOU—not hanging from the saddle, or in your saddle bag. If you and your steed should happen to part company, do you think HE is going to call home to let everyone know that you are both okay?

2. In your saddle bag, or somewhere on your saddle—keep some sort of ID tag with your name, your horse's name, stable (and/or home) address, stable (and/or home) phone number and your cell phone number on it, so that if Trigger should happen to wander into someone else's stable after he dumps you, they know where he belongs and can start the reuniting process to get you and him back together (and maybe have an idea of where to look for you!).


3. ALWAYS let someone know where you are going and when you expect to return—even if it is the same trail you have ridden hundreds of times. If no one is around when you ride out, tape or tack a note to your stall door.

4. If you are hauling your horse to a trailhead for your ride, do not forget your ICE—Information Concerning Emergencies. Law Enforcement agencies are asking folks to do this in order to aid them in helping with search and rescue efforts, should one arise. ICE is simply a piece of paper or large index card with your contact information and itinerary on it. Write your information on one side of the paper (you might even want to include a photo of you and your horse) then write ICE in big bold letters on the other side of the paper. Place the paper on the driver's seat of your vehicle with ICE face up, so that it is visible through the driver's side window.

Does that sound silly? Even experienced riders have accidents! Remember-safety first when it comes to riding! Taking a little precaution at the beginning of your ride will ensure that you have Happy Trails for many more rides to come!

"It's not the trail you ride, but how you ride the trail. Sometimes it's better to get off your horse and walk".

www.havanoranch.com
---
Response 1
Thursday 18th of February 2010 12:17:09 PM
Submitted by: Annalisa
Joanne, Enjoyed reading your article I can relate. The best tip was not to keep a cell phone in a saddle bag or anywhere on a horse they won't make a phone call for you. Instead they will probably be back at the barn eating grass and waiting for you. LOL
Response 2
Friday 19th of February 2010 05:29:14 AM
Submitted by: Joanne
Yup, they'll be munching away and when you catch up to them, they'll give you the "Where have YOU been" look and calmly go back to munching....
Response 3
Tuesday 23rd of March 2010 11:35:05 AM
Submitted by: Teri R
Good point about putting some sort of ID on the horse and I do carry my cell phone on my person. Another thing I do is wear a medical arm band that I refer to as my "toe tag". It is in a protective plastic case with elastic that you can put around your arm, or for us fluffy ladies, wear on your leg. I started wearing one because I am a combined driver and they are required for marathon in case of a turnover. It was a no brainier to wear one when out on the trail in case I am knocked unconscious someone that came across me would not only be able to identify me but also know who to contact and some brief medical information for the EMT's. They are especially important if you are riding alone but even your friends may not know who to contact if you are injured so I wear mine at all times. I did have my arm band on when I had an unplanned trip via ambulance, when my mare fell with me in the parking lot of a local tree farm trail head. The EMT was asking me personal information but the pain was sometimes obscuring my thought. I referred her to the card located at my ankle. She was very impressed and wished more people would wear them. Another thing that saved me (and impressed the EMT's) was my helmet. While not a piece of identification they used it to stabilize my neck along with a towel as they weren't able to fit a neck brace with me. There is no such thing as too much information when your injured or your horse is lost.
Response 4
Sunday 15th of January 2012 10:08:15 AM
Submitted by: McHTzrqAmj
Great article, thank you again for writnig.
---