Tips for keeping your horse cool in the summer heat
Equine Health
Tuesday 30th of June 2009 12:50 AM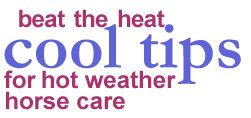 All winter, horse lovers dream of balmy summer days, when we can gallop across the countryside on our favorite horses. However, once those lazy and hazy summer days arrive, we must take extra precautions to keep our horses cool!


shelter from the sun
Searing heat and sweltering humidity can be dangerous for horses. Every year, numerous cases of colic, dehydration, and respiratory distress are attributed to warmer summer weather. Worse, potentially fatal heatstroke or exhaustion causes a few deaths each summer. Thankfully, however, responsible horse care and vigilance when the temperatures rise is all most horses need to cruise through summer in comfort. To help your horse beat the heat, keep the following tips in mind:
| | |
| --- | --- |
| | Water Staying hydrated will help your horse stay cool and is especially important when temperatures are high enough to cause the horses to sweat through the day. |
| | |
| | Electrolytes In addition to powder electrolytes, you can increase your horse's water consumption by offering a bucket of flavored gatoraide or soaking your horse's hay for 30 minutes before feeding. |
| | Ventilation Consider barn-cooling options to keep your horse cool in the summer. If your horses spend time in a stall or loafing shed, consider fans (ranging from box fan type to overhead fans which can lower a barns temperature up to 15 degrees!) There are also cooling mist systems that can be installed with a garden hose and can lower the temperature of a barn or loafing shed as much as an overhead fan. |
| | Baths Sponge or hose down the large blood vessels along the inside of the legs, belly, and neck. Don't spray the horse's face or get water in its ears—sponge them down gently. |
| | Fodder Mid to late summer weather often means that grass growth slows down and pasture quality declines. Make sure your horse is getting enough fodder and consider supplementing with hay if necessary. Horses need energy to stay warm and cool. Adjust your feed mixture if your horse begins to lose condition in hot weather. |
| | Coat Care Clip horses with heavy coats. Be careful not to clip too close however, since exposed skin can sunburn. Apply zinc oxide cream to horses with pink noses to prevent and treat sunburn. |
signs of heatstroke
A common misconception is that hot summer weather only affects work or show horses. This is untrue. While active horses are more susceptible to a rise in temperature, extreme heat can quickly take its toll on any horse. In fact, heatstroke can occur whether your horse is plowing a field, standing in a stuffy stall, or traveling in a trailer.
Heatstroke occurs when your horse is unable to rid his body of excess heat. Your horse's body has a natural cooling process. However, extreme heat and humidity can overpower your horse's ability to cool himself. To compensate, the body redistributes blood flow closer to the skin, which aids cooling. However, this mechanism causes internal organs and the brain to receive less oxygen. Add excessive sweating into the mix, which causes a loss of fluids and electrolytes, and the results can be disastrous. Signs of heatstroke - also known as heat stress or heat exhaustion - include:
Elevated respiration in an inactive horse (normal range is 4 to 16 breaths per minute).
Elevated pulse in an inactive horse, pulse that does not drop after several minutes, or climbs once exercise has stopped.
Profuse sweating or no sweating at all.
Elevated body temperature above 103F.
Irregular heart beat known as 'thumps.'
A depressed attitude.
Dehydration. Test for this by observing your horse's flanks. If they look caved in, he is probably dehydrated. Pick up a pinch of skin along your horse's neck. If the skin snaps back quickly, the horse is sufficiently hydrated. If the pinched area collapses slowly, the horse is dehydrated.
Heatstroke is a serious condition. Severe cases of heatstroke lead to collapse, seizures, or loss of your horse. If you suspect your horse is suffering from heatstroke, immediately take measures to help cool him. Contact your veterinarian if symptoms persist or his condition worsens. To help cool your horse: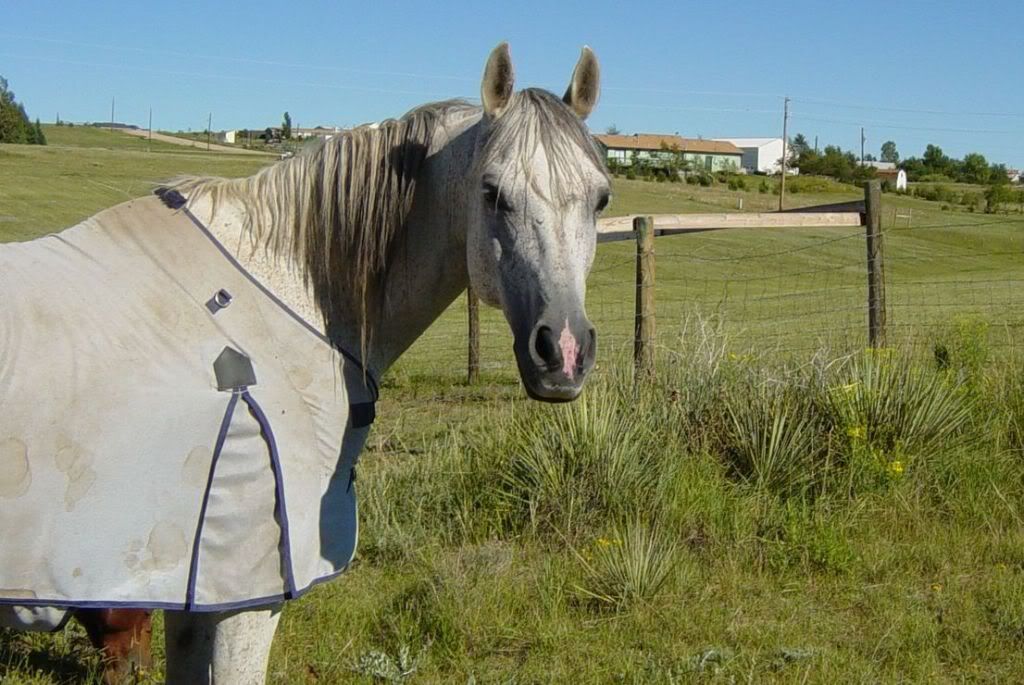 maintain overall health
Your horse's ability to beat the summer heat depends, in part, on his overall health. Sick or injured equines may not have the energy necessary to naturally cool themselves. Similarly, internal parasites can rob your horse of his health and make him even more susceptible to heat exhaustion or stress. Furthermore, your horse can expend large amounts of energy fleeing the swarm of biting insects that usually accompanies summer weather and further expose himself to the elements.

As such, it is important to keep your horse current on his deworming schedule. Suitable insect sprays, fly sheets and masks, and barn and stable traps can also help protect your horse from flies, mosquitoes, and gnats. Together with diligent horse care, you and your horse should be set to enjoy the endless fun of summer.