How to Get Your Horse to Trust and Respect You
Equine Training
Friday 3rd of April 2009 06:33 AM
Is your horse stubborn and hard to lead or do you just want your horse to trust you more?
Steps
1. You should always be careful around unfamiliar horses, first and foremost. To develop a strong, successful relationship with your horse, you should always be firm and gentle. Talk quietly to your horse, pet and groom him gently, but do not let him disrespect you. If he rubs against you this can be dangerous (he can bowl you over and injure you etc.) push him away, and stop patting him. A rule of thumb is that you can come into the horse's space to pet him, but he cannot come into yours without being invited. This leads into the concept of being the Alpha horse and asking for your horse's respect.
2. Then your goal is to teach the horse to respect your space by teaching him to back away from you. There are several techniques to teach a horse to back up. You can shake the lead shank at him, tap the lead rope with a whip or stick, or tap the horse on the chest. In each case, you simply keep bumping or tapping until the horse takes a step back. As soon as the horse steps back, reward the horse by stopping the cue and letting him rest. After the horse rests, ask again for a step back. By being consistent in asking and responding to the positive steps of your horse, you should be able to teach him to back. Subsequently, you will need to make the horse back every time he gets pushy to reestablish his respect and your authority.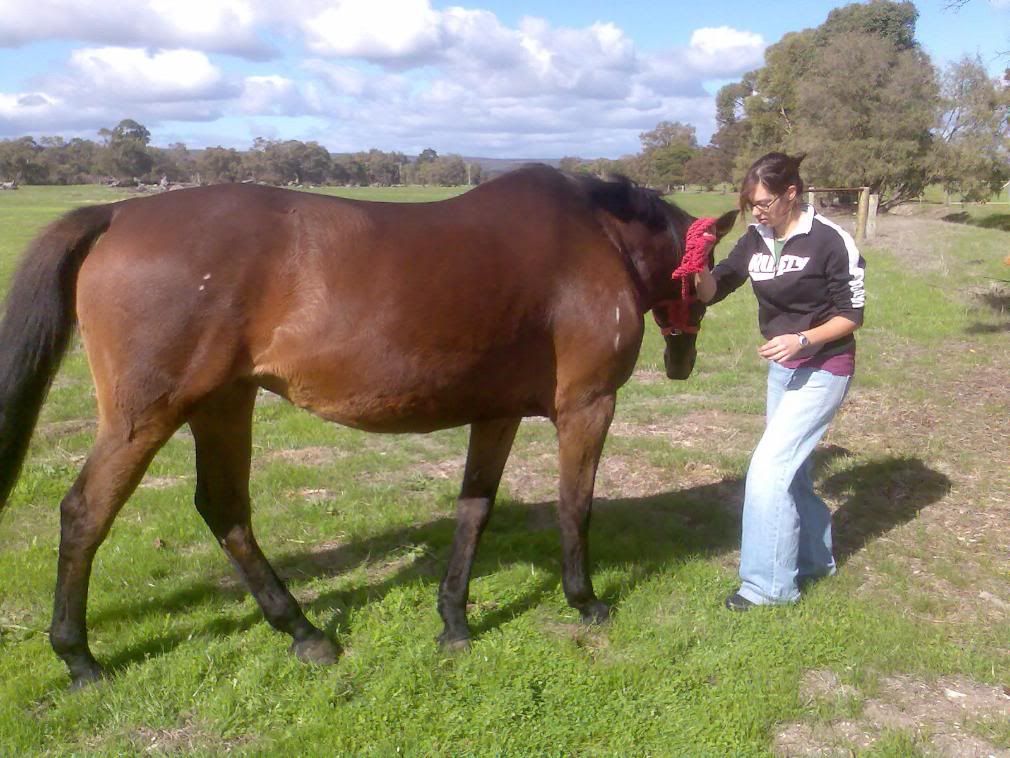 3. Try walking around, if he follows you that means that he accepts you as the alpha. If not, gently coax him to you. Once you have established that you are the alpha, your horse should trust you and respect your space, since horses are natural followers they will follow you when you lead them.
Tips
Seek a knowledgable horseperson to help you as well as answer any questions you may have.

Never hit a horse on the face or head, as he could become head shy; and reprimand a horse immediately after he has misbehaved. Wait too long and he will not understand what he did to deserve a reprimand.

Cuddling and petting is fine, but can result in a sour, or pushy horse - best kept to a minimum, and only when well deserved.
Usually, you should not ride a horse or even get on him before you know he has respect for you. Riding him when he disrespects you could result in an accident. Only intermediate-advanced riders would be safe riding a disrespectful horse, because they would know how to handle the horse.
NEVER punish a horse more than about 5 seconds after he has done something wrong. This will result in him not trusting you, because to him when you punish him several seconds after he misbehaves, he doesn't understand why you did it and thinks you are randomly hitting him. in some cases it is better just to ignore bad behavior and reward good.
Warnings
If your horse is aggressive you must be careful or you will get hurt.

Try not to hand feed treats too much, this can create an undesirabley nippy or agressive horse that accepts treats every time he nips or pulls a face.

For the first few days of building trust, it is probably ok to hand feed the horse treats, but after that you should always feed them on the ground or in a bucket or feeder. This will still earn you more trust from the horse, but no bad habits come from it.