SCAM ALERT
Internet SCAMS
Friday 9th of May 2008 03:38 AM
If It Sounds Too Good to be True...It Probably Needs A Second Look

NEVER WIRE FUNDS VIA WESTERN UNION, MONEYGRAM or any other wire service - anyone who asks you to do so is a scammer.
FAKE CASHIER CHECKS & MONEY ORDERS ARE COMMON, and BANKS WILL CASH THEM AND THEN HOLD YOU RESPONSIBLE when the fake is discovered weeks later.
Your Equine Source IS NOT INVOLVED IN ANY TRANSACTION, and does not handle payments, guarantee transactions, provide escrow services, or offer "buyer protection" or "seller certification"
NEVER GIVE OUT FINANCIAL INFORMATION (bank account number, social security number,PayPal info, etc.)
AVOID DEALS INVOLVING SHIPPING OR ESCROW SERVICES and know that ONLY A SCAMMER WILL "GUARANTEE" YOUR TRANSACTION.
Don't deposit it – report it! Report fake check scams to NCL's Fraud Center, at http://www.fraud.org/ That information will be transmitted to the appropriate law enforcement agencies.
All scam attempts will be posted here under category Internet SCAMS for the public and Your Equine Source members to view. IP address's are logged and monitored. Sounds too good to be true? It probably is. Scams will not be tolerated on Your Equine Source!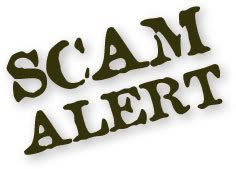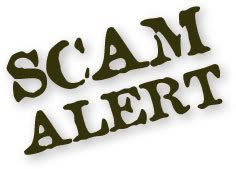 If any deal requires you to send the buyer money, it is a scam.
Helpful information if you are a victim of a scam attempt?
National Fraud Information Center (NFIC)
In addition to providing helpful information, the NFIC will pass your complaints along to the appropriate authorities, such as the Federal Trade Commission (FTC) and your state's Attorney General's Office. The NFIC also maintains a toll-free hotline at 1-800-876-7060.

FTC toll free hotline: 877-FTC-HELP (877-382-4357)
FTC online complaint form (http://www.ftc.gov/)
Canadian PhoneBusters hotline: 888-495-8501
Internet Fraud Complaint Center (http://www.ic3.gov/
In Memory of Halter Horse icon Jerry Wells and Legendary Equine Artist Orren Mixer
In Memory
Thursday 8th of May 2008 05:45 AM
Two icon's in the Horse Industry that will be Greatly Missed!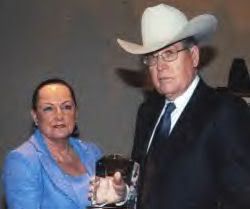 Jerry Wells with his wife Betty by his side being inducted into the Oklahoma Quarter Horse Association "Hall of Fame" 2007
59 AQHA World Champion Halter Trophies1 SR Calf Roping Trophy1 AQHA Race Horse Trophy
He showed Quarter Horses for over 40 years and garnered more World Champion halter horses than any other competitor. Horses were his passion, his livelihood , his life and he was one of the first people to make a career and living showing horses. He was Jerry Wells and the industry lost a legend on May 3,2008 at 67, he lost his battle with cancer. He died at the Baptist Medical Center in Sulphur, Okla., with his family at his side, Wells and his wife were married 43 years.
Wells owned some of the most famous stallions of our time: Te N Te, Windchester, Sonny Go Lucky, Conclusive, Impressive, The Investor, Boston Mac and Merganser, the winner of the All American Futurity. He made Kid Meyers the first AQHA Supreme champion and showed such greats as Obvious Conclusion, Im A Cool Skip, Barn Burner, Cluiton and The Money Broker – making them legends along the way. He had 59 World Championships at Halter, one in Senior Calf Roping and one AQHA race horse.
At halter, he showed the industry's greatest horses to 597 grands, 371 reserves, and 1,364 halter points at 2,079 shows. But he didn't just show halter horses – he was also a real cowboy, earning 17 wins with rope horses at 165 shows, garnering 130 AQHA points. He was also a founding member of the World Conformation Horse Association. Ironically, he died just days after his friend Orren Mixer.
I would like to give Orren Mixers family my condolences in his passing. I personally as the owner of Your Equine Source would like to add that I had the special pleasure of meeting Orren at the 2006 Palomino World when I was out there showing. Orren was a very busy man that particular day signing prints for everyone at the show, I had a chance to talk with him and he is an awesome man. I walked away with four of his prints all signed and dated by Orren they will be treasured for the rest of my life.
Mixer became a well-known local Western artist during the 1950s and 1960s.
Horses became his specialty, and his work was featured on the covers of Western Horseman, The Quarter Horse Journal, Cattleman and Oklahoma Today.
In 1968, the American Quarter Horse Association commissioned Mixer to paint "The ideal American Quarter Horse," and six other breed associations followed suit. He depicted the ideal pinto, paint, palomino, Appaloosa, buckskin and pony of the Americas. His medium was oil on canvas.
In 1988, he and his wife drove to California to hand deliver his paintings of President Reagan's Arabians and one of Nancy Reagan's quarter horses. Despite his credentials, Mixer remained unassuming about his success.
Mixer was inducted in the AQHA "Hall of Fame" in 1993.
Mixer lived on a 50-acre cattle ranch near Arcadia Lake. He combined his love for horses and art into a lifetime career.
In a 2002 interview with The Oklahoman, Mixer said, "They say I'm famous, but I just don't see it that way."
In the same 2002 article Mixer said, "I tell you what, if I go out and I don't come home, I have enjoyed my life, I don't know what in the world I would do any different."
Mixer was in Texas delivering a painting to a friend when he died April 29, 2008.
Eight Belles a Catastrophic Breakdown
Equine Racing
Sunday 4th of May 2008 02:37 PM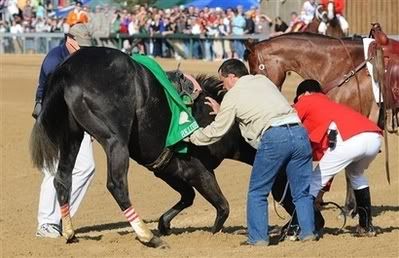 Finished second in the 134th Kentucky Derby behind Big Brown but shortly after crossing the wire she went down with two compound ankles and was euthenized on the track.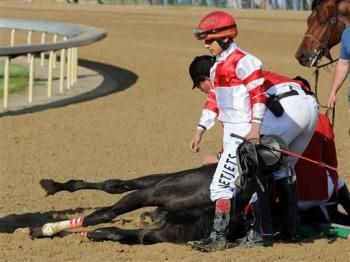 Track personnel try to hold down Eight Belles as jockey Gabriel Saez walks past after the 134th Kentucky Derby Saturday, May 3, 2008, at Churchill Downs in Louisville, Ky.
---
Response 1
Monday 20th of July 2009 09:06:18 AM
Submitted by: Shawna
oh wow thats soo sad:(
---
This is such a moving story
Equine Amputee
Friday 2nd of May 2008 11:57 AM
If you have not read or heard about this story I would like to share it with our members and friends about Molly the Pony sent by a member of Your Equine Source.
Molly the Pony
I've written articles over the years about horses who survived amputation surgery. There was Boitron, the California Thoroughbred stallion who could service mares after amputation surgery. There were Dr. Ric Redden's dramatic cases of founder survivors who galloped around his paddock on artificial feet with "transplanted frogs". Dr. Chris Colles had the never-say-die Appaloosa in England with the spring-loaded foot. And who can forget that paint yearling in India? Or the landmine-maimed elephant amputee in Thailand? Longtime Hoofcare and Lameness Journal readers will remember them all.

So when I first heard that a pony had survived amputation surgery at Louisiana State University 's (LSU) equine hospital, I didn't run to the keyboard and beg for photos. A few weeks later I did, though.

Meet Molly. She's a gray speckled pony who was abandoned by her owners when Katrina hit southern Louisiana .. She spent weeks on her own before finally being rescued and taken to a farm where abandoned animals were stockpiled. While there, she was attacked by a pit bull terrier, and almost died. Her gnawed right front leg became infected and her vet went to LSU for help. But LSU was overwhelmed, and this pony was a welfare case. You know how that goes.

But after surgeon Rustin Moore met Molly, he changed his mind. He saw how the pony was careful to lie down on different sides so she didn't seem to get sores, and how she allowed people to handle her. She protected her injured leg. She constantly shifted her weight, and didn't overload her good leg. She was a smart pony with a serious survival ethic.

Moore agreed to remove her leg below the knee and a temporary artificial limb was built. Molly walked out of the clinic and her story really begins there.

"This was the right horse and the right owner," Moore insists. "Molly happened to be a one-in-a-million patient. She's tough as nails, but sweet, and she was willing to cope with pain. She made it obvious she understood (that) she was in trouble." The other important factor, according to Moore , is having a truly committed and compliant owner who is dedicated to providing the daily care required over the lifetime of the horse.

Molly's story turns into a parable for life in post-Katrina Louisiana . The little pony gained weight, her mane felt a comb. A human prosthesis designer built her a leg.

"The prosthetic has given Molly a whole new life," Allison Barca DVM, Molly's regular vet, reports. "And she asks for it! She will put her little limb out, and come to you and let you know that she wants you to put it on. Sometimes she wants you to take it off too." And sometimes, Molly gets away from Barca. "It can be pretty bad when you can't catch a three-legged horse," she laughs.

Most important of all, Molly has a job now. Kay, the rescue farm owner, started taking Molly to shelters, hospitals, nursing homes, rehabilitation centers. Anywhere she thought that people needed hope. Wherever Molly went, she showed people her pluck. She inspired people. And she had a good time doing it.

"It's obvious to me that Molly had a bigger role to play in life," Moore said, "She survived the hurricane, she survived a horrible injury, and now she is giving hope to others."

"She's not back to normal," Barca concluded. "She's going to be better. To me, she could be a symbol for New Orleans itself."

This week, Molly the Pony, a children's book about the pony who has already inspired thousands of people around New Orleans , has been published.

It's not a book about amputation or prosthetics, it's a book about people and ponies. But the photos you see here are from the book.

Maybe Molly won't make the vet textbooks, but she might reach more people from the pages of this book for children. If you know a child, a library, a hospital, or maybe a therapeutic riding program that can use a lift, here's a book that can do that. And you can explain how the leg and hoof work!

HOW TO ORDER: This book is an oversized, square "laminated" (so it wipes clean) hard cover book. Hoofcare Publishing is proud to offer it for sale to you at the price of $15.95 each plus $6 post. A portion of the sales price will go toward Molly's fund. To order, send check or money to Hoofcare Books, 19 Harbor Loop, Gloucester MA 01930 Telephone orders to ( USA ) 978 281 3222. Fax orders to ( USA ) 978 283 8775. Email orders to books@hoofcare.com. Visa or Mastercard accepted; please supply account number and expiration date. When ordering, please give phone and/or e-mail details.

You will LOVE this book--and Molly!
This is Molly's most recent prosthesis. The bottom photo shows the ground surface that she stands on, which has a smiley face embossed in it. Wherever Molly goes, she leaves a smiley hoof print behind!
---
Response 1
Monday 5th of May 2008 02:00:49 PM
Submitted by: Wayne Anderson
Thank You! Your Equine Source I was truly moved by this story.
Response 2
Thursday 26th of June 2008 10:15:12 PM
Submitted by: Bob and Carol Pastore
We have an older horse that has three sound legs, but, the left front knee is protruding outward causing him severe pain. His arthritis is the result of a confirmation problem from birth that has gotten gradually worse. We saw the prosthetic lower front leg and the story about Dr. Allison Barca. We desperately need a hinged brace that has most of the properties of Dr.Barca's equine prosthesis, fitting the leg above the knee similarly, but, supporting his lower leg, not, cutting it off. We sent a negative cast to NTD Equine Braces in Manteca, Ca ( Tim Niswonger ) paying in advance, but, have not received a brace in almost 3 mos. now. We use this horse as a therapeutic riding horse. We don't want to put this wonderful horse down if we can stop his pain and let him walk normally again. We use him to introduce 3 to 6 year old autistic children to horses by mostly having them mostly groom him and sit on him, so he never needs to be actually ridden. He's very health otherwise and the type of children's horse that is hard to find.
Response 3
Tuesday 14th of October 2008 01:49:17 PM
Submitted by: Kady Boe
Go Molly. Lets help this Filly have the same success!!! http://www.ridingpals.com/peggysue.htmljust $3 from 5,000 people and we will have met our goal. i need a rescue to help back me. I am deperate and really need to meet our goal to save her. if you can not donate please just spread the word!!
Response 4
Tuesday 2nd of June 2009 06:11:14 PM
Submitted by: John Silveira
I agree - this is amazing . One of my good friends recently put down her first foal as it had broken it's rear leg , they tried to give the leg a chance to heal but never really took. Was so sad about it. Seeing this pony still getting around is certainly inspiring. John http://Farrieritis.Care4Horses.com
---