Hope everyone is having a successful foaling year?
Preparing for the arrival of a foal that you have been anxiously awaiting for 11 months is an anxious and stressful time. Here are some tips to prepare yourself for the coming day.
Provide a clean, dry foaling stall bedded with straw (not shavings).
Don't sleep until that foal eats!
A foal should stand within one hour of birth and nurse within two hours of birth for vital immunties to transfer from the mare to the newborn foal,a dose of colustrum out of a bottle can do wonders on a weak foal that can't get up. If this does not happen with your foal it's time to intervene.
When the foal is delivered, its airways should be cleared and its naval daubed with 7% iodine. Empty film canisters are excellent for delivering the iodine to the navel stump. The cord should be dipped in the container for 30 seconds or more.
If your foal has not passed the meconium (first sticky dark stool) within six hours of birth an enema should be given immediately. Fleet enemas that are not medicated work beautifully for this and come with self lubricated tips.
Keep a close eye on the foals stool the first couple days any signs of blood is an EMERGENCY!!
Chlostridial kills many foals each year and they die quick! You must act immediately with antibiotics to save the foal.

If you have a stud colt, make sure his penis drops when he urinates.
Mares come into foal heat between five to nine days post foaling. At this time foals will nearly always develop a nasty case of scours.
Foals given 5cc of Probios the day of birth, another 5cc on day three of life and a third dose of 5cc on day five rarely ever have foal heat scours.
Have your veterinarian perform a blood test for the IgG antibody between 8-10 hours after birth. Between 10-20% of foals have low IgG concentration and are at a higher risk for disease.
I hope you find these tips helpful and your newborn foals arrive healthy and safely!
put in your subject (Newborn Foal),include your name and location of foal. We will post them in our Blog to share with others.
To Vicki Livasy of Double L Acres in Illinois on the birth of this amazing colt.
DL Sparked By Precision (3 wks old)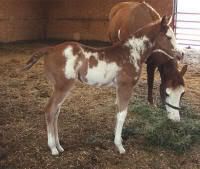 To Fran Asche of Idaho on the birth of this beautiful filly.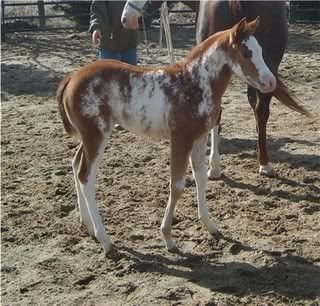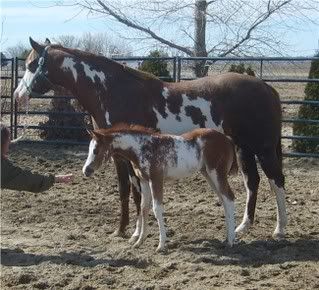 Belle (3 wks old)
To Judith Burns of Southern Jewel Farm in Bostic North Carolina on the birth of this amazing RPSI colt.
Catawba