†
Pros and Cons of Horseshoeing
Equine Feet
Thursday 31st of January 2008 05:19 AM
Proper horseshoeing is in my opinion not to be overlooked the slightest. The truth is very small deviations in what is "Correct" shoeing can and will lead to lameness and too many times it's a permanent lameness. When horse owners become lulled into a false sense of security feeling or thinking "well my horse has been fine all these years" it can often times be the recipe for disaster. The repetitive motion and the amount of use can build up to a lameness at "any" time. All horses are different and all have different levels of being prone to lameness issues or not. A small deviation in what should be done to a horses foot over the years can add up to wear and tear on joints and ligaments and seemingly overnight a horse can come up permanently lame.
So what would you prefer- a Farrier that has a track record of working on lame horses or a Farrier that has a track record of not having one single lame horse due to his or her style and method of shoeing? Doesn't it all seem all too convenient that a Farrier works with lame horses? At the risk of cynicism isn't it convenient for the Farrier to be able to charge more for treatment of lameness but not know how to prevent lameness? It's somewhat like creating his own market for his specialty- as in not preventing the lameness in the first place then getting to charge more in the future to treat the lameness.
Hot shoeing does not hurt the horse in usual circumstances. There are occasions where it the hoof has been trimmed quite short then the hot shoe is applied the heat transfers into the sensitive tissue of the foot and the horse can feel the heat. Sometimes the horse will not want to put his foot down as it's too hot; however this is a very temporary condition and rarely ever has hot shoeing caused lameness.
Horses that are not hot shod can have shoes that fit very tightly just as well. And being cold shod the shoe will still separate from the hoof wall while the horse walks and runs just as a hot fit shoe will. There doesn't seem to be any evidence that a horse that was cold shod has ever caused lameness of any kind from being cold shod.
Preventing lameness is about shoe placement, bone alignment, bone angles, length of toe, and direction of foot in relation to knees and pastern bones as well as quite a few other issues with foot care and horse shoeing practices.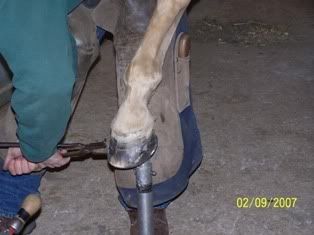 ---
Response 1
Friday 1st of February 2008 05:40:18 PM
Submitted by: Shirley Alexandra
The horseshoe was never meant for the horse. It was meant for the human. When demographics changed and horses had to be brought in from fields and live in villages in town and had to stand in their own mess,the horn or hoof-wall would start to fray.Most barefoot enthusiasts concede that not all horses are candidates for going barefoot,most horses could live without shoes if given proper nutrition,regular trimmings and plenty of room to move around.A six-month-or-more transition is usually necessary for hooves to "toughen up." As the hoof begins to grow more strongly,horses can usually do much of the same activity as they would with shoes.P.S.I think barefoot is a very good idea but it has to be based on the individual situation.There are certainly a lot of horses who can go barefoot and a lot of horses who can't.Well enough said on this topic.Respectfully,Shirley Alexandra
---
2008 Maryland Horse World Expo
Equine Expo
Sunday 20th of January 2008 07:48 PM
Your Equine Source and Condon Farms would like to Thank everyone who stopped by our booth at the Maryland Horse World Expo. We would also like to congratulate Charlie Moore from Sykesville Maryland on winning the 50 bales of hay from Condon Farms and a T-Shirt from Your Equine Source.This was the first expo for Your Equine Source and it was very exciting meeting everyone and sharing unique stories.
Thanks to everyone for stopping by our booth your business is greatly appreciated and we are looking forward to the 2009 Horse World Expo.
P.S. I would like to share a beautiful card that I received in the mail on 2/04/08 from Mr. Charlie Moore of Sykesville Maryland who won the 50 bales or hay from Condon Farms and a Your Equine Source T-Shirt. Thank you Charlie for sending us this card it was extremely thoughtful and very appreciated.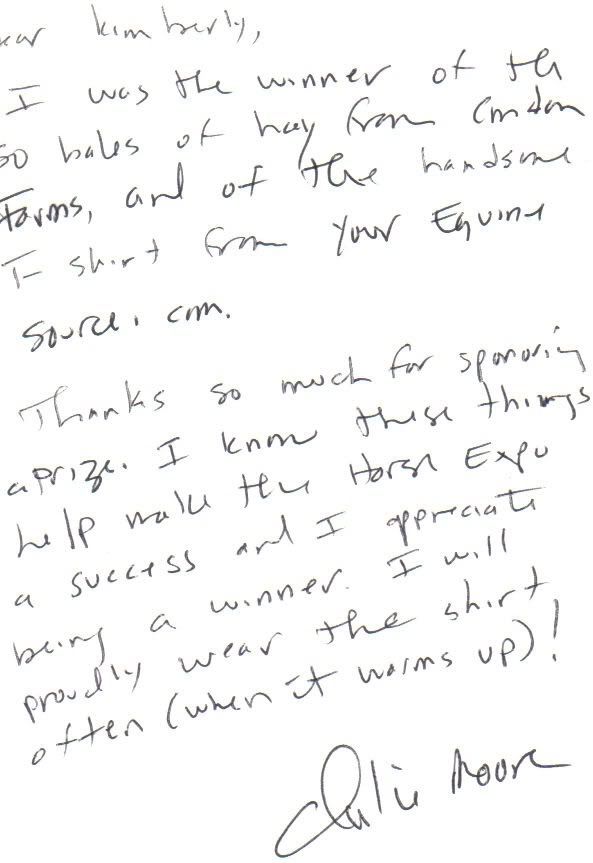 How to find a Horse or Pony's Height
Equine Height
Sunday 13th of January 2008 03:34 PM
When you measure a horse or pony,it's from the ground to the withers and is measured in hands.
How much is a hand?
One hand is equal to 4 inches
Horses were originally measured by the width of a person's hand which was approximately 4 inches,and by placing one hand on the ground, the other above it and moving the first hand over the second,the horse could be measured.
Hands high"or"hh"are the terms used.
Often the height is just over a number of hands eg 16 hands and 2 inches and the height is referred to as 16.2hh.
Small ponies are often measured in centimetres.
For the most accurate measurement,make sure your horse or pony is standing squarely on solid ground. Measuring sticks are the best way of measuring a horse,as the tape measures available in hands aren't always held straight.These measuring sticks consist of a large wooden "ruler" marked out in hands with another piece of wood at right angles which can be lowered to sit on the horse or pony's withers ensuring an accurate reading.
Today most of the measuring sticks are equipped with "level" (bubble) to enable the most accurate results.
A place for Equine Enthusiasts
Welcome to Your Equine Source Blogs
Saturday 12th of January 2008 04:00 PM
Dear Members and Friends,
Your Equine Source would like to welcome you to our blog page, this will provide a place for our members to share their knowledge and experiences with other fellow horseman.
Category's will be added at the request of our members,who would like to talk about certain topics that pertain to the equine industry.
Now,a little bit about myself as the owner of Your Equine Source,this site has evolved out of my passion for horses and being a fellow horseman myself. My goal is to give the public a place to advertise their items or stock with maximum exposure on a user friendly website. I am not a computer guru, but my support team behind the scenes are phenomenal and my hat goes off to you.Thank You!
I will do my best to make sure the blogs are informative and helpful and your input is always welcomed. Kimberly info@yourequinesource.com
---
Response 1
Monday 17th of December 2007 12:58:36 PM
Submitted by: Erica
That is a great deal! Happy Holidays to you!
---
Enlighten everyone's day share your equine jokes and anecdotes
Equine Jokes and Anecdotes
Monday 7th of January 2008 04:17 AM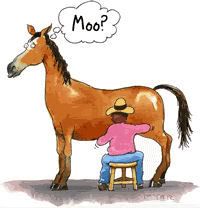 So you think your Equine jokes are funny well let's hear them?
---
Response 1
Saturday 12th of January 2008 10:05:52 AM
Submitted by: Larry Coffman
Q: Why was the horse called a hot head? A: Because he had a blaze! Q: What do you call a miniature horse? A: Vertically Challenged! Q: How do you make a small fortune working with horses? A: You start with a large one!
Response 2
Saturday 12th of January 2008 10:50:46 AM
Submitted by: Jennifer Evans
Love this category I could send jokes all day. You Might Be A Horse Person If... 1.You spend hundreds of dollars on a show for a 95 cent ribbon. 2.Your horses legs are shaved better than your own. 3.Your horse has more shoes than you do. 4.You say whoa to the dog. 5.The centerfold of your magazine is a horse,and there is NO swimsuit edition. 6.Your plan your entire social life around horse shows and practice. 7.Your horse's stall is cleaner than your room. 8.You are more interested in the trailer than the cute guy standing next to it. 9.Your nice clothes are the ones without horse hair on them. 10.You are the one stealing all the socks for tail bags. ENJOY! Jennifer Evans
Response 3
Sunday 13th of January 2008 10:59:34 AM
Submitted by: Anna Sayers
HOW MANY HORSES DOES IT TAKE TO CHANGE A LIGHTBULB? THOROUGHBRED: Who ME? Do WHAT? I'm scared of light bulbs! I'm outta here! ARABIAN: Someone else do it. It might get my silky mane dirty and besides, who's gonna read me the instructions? QUARTER HORSE: Put all the bulbs in a pen and tell me which one you want. STANDARDBRED: Oh, for Pete's Sake, give me the darn bulb and let's be done with it. SHETLAND: Give it to me. I'll kill it and we won't have to worry about it anymore. FRIESIAN: I would, but I can't see where I'm going from behind all this mane. BELGIAN: Put the Shetland on my back, maybe he can reach it then. WARMBLOOD: Is the 2nd Level Instruction Packet in English? Doesn't anyone realize that I was sold for $75-K as a yearling, but only because my hocks are bad, otherwise I would be worth $100-K? I am NOT changing light bulbs. Make the TB get back here and do it. MORGAN: Me! Me! Me! Pleeeease let me! I wanna do it! I'm gonna do it! I know how, really I do! Just watch! My parole officer said it's okay, really! And when we're done we can go over to the neighbor's and chase their cats! APPALOOSA: Y'all are a bunch of losers. We don't need to change the light bulb, I ain't scared of the dark. And someone make that darn Morgan stop jumping up and down before I double-barrel him. HAFLINGER: That thing I ate was a light bulb?
Response 4
Wednesday 7th of January 2009 11:27:40 AM
Submitted by: Gina Benker
Everybody Must know the Glossary of horse terms: HOCK: Financial condition of all horse owners. STALL: What your rig does at rush hour in an unfamiliar city, on the way to a big horse show. A BIT: What you have left in your pocket after a trip to your favorite tack shop. FENCE: Decorative structure built to provide your horse with something to chew on. HORSE AUCTION: What you think of having after your horse bucks you off. WELL MANNERED: Has'nt stepped on, bitten or kicked anyone in the past week. LUNGING: Popular training method in which a horse excercises thier owner by spinning them in circles until dizzy. GALLOP: Customery gait chosen by a horse when returning to the barn. NICELY STARTED: Lunges, but not enough health insurance to even think about riding him. COLT: What you mare gives you when you want a filly. EASY TO LOAD: Only takes 3 hours, 4 men, a 50 lb. bag of oats and a tractor with loader. EASY TO CATCH: In a 10x10 stall. EASY RIDER: Rides good in a trailer; not to be confused with "ride-able". FEED: Expensive substance used to manufacture manure. THREE GAITED HORSE: A horse that 1) trips, 2) stumbles, 3) falls. HAVE A GREAT DAY!!!
---