Equines come in different shapes and sizes
Equine Sizes
Wednesday 19th of December 2007 02:09 PM
You've been asking so here they are the worlds smallest and tallest horses.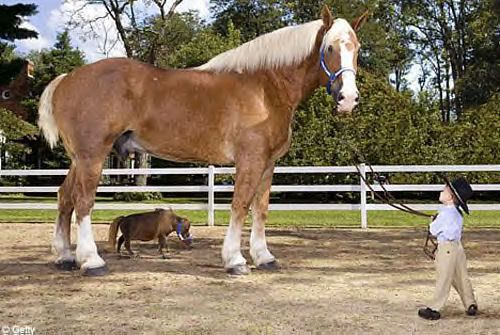 Thumbelina and Radar the world's smallest and tallest horses respectively together at last.

owned by

is a Belgian Draft Horse featured in the 2006 Guinness World Record Book as the
Tallest Living Horse.
Radar Stands 19 Hands 3 1/2 Inches (6' 7 1/2" at the withers) and weighs over 2,400 lbs.
Radar eats 18 lbs. of grain, 40 lbs. of hay, and drinks 20 gallons of water each day.
Radar,a gelding,was born in 1998 in Iowa USA.
Radar is 40 times bigger than Thumbelina, standing at more than 6 feet, 7 inches tall.

Thumbelina,the worlds smallest horse
Kay and Paul of Goessling's Goose Creek Farm own this darling little creature.
Thumbelina entered this world weighing about 10 pounds,a normal miniature horse weighs about 25 pounds at birth.
This tiny dwarf miniature born five years ago,stands a mere 17 1/2 inches tall at the withers, roughly the stature of a medium-size dog, and weighs about 60 pounds.
According to the Guinness World Record Book,she is officially the world's smallest living horse.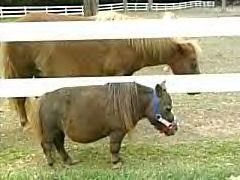 ---
Response 1
Sunday 23rd of December 2007 03:27:09 PM
Submitted by: Susie
Oh...My...Gosh how cute! Thumbelina is totally amazing
---