Two icon's in the Horse Industry that will be Greatly Missed!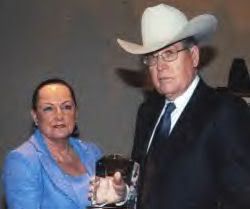 Jerry Wells with his wife Betty by his side being inducted into the Oklahoma Quarter Horse Association "Hall of Fame" 2007
59 AQHA World Champion Halter Trophies1 SR Calf Roping Trophy1 AQHA Race Horse Trophy
He showed Quarter Horses for over 40 years and garnered more World Champion halter horses than any other competitor. Horses were his passion, his livelihood , his life and he was one of the first people to make a career and living showing horses. He was Jerry Wells and the industry lost a legend on May 3,2008 at 67, he lost his battle with cancer. He died at the Baptist Medical Center in Sulphur, Okla., with his family at his side, Wells and his wife were married 43 years.
Wells owned some of the most famous stallions of our time: Te N Te, Windchester, Sonny Go Lucky, Conclusive, Impressive, The Investor, Boston Mac and Merganser, the winner of the All American Futurity. He made Kid Meyers the first AQHA Supreme champion and showed such greats as Obvious Conclusion, Im A Cool Skip, Barn Burner, Cluiton and The Money Broker – making them legends along the way. He had 59 World Championships at Halter, one in Senior Calf Roping and one AQHA race horse.
At halter, he showed the industry's greatest horses to 597 grands, 371 reserves, and 1,364 halter points at 2,079 shows. But he didn't just show halter horses – he was also a real cowboy, earning 17 wins with rope horses at 165 shows, garnering 130 AQHA points. He was also a founding member of the World Conformation Horse Association. Ironically, he died just days after his friend Orren Mixer.
I would like to give Orren Mixers family my condolences in his passing. I personally as the owner of Your Equine Source would like to add that I had the special pleasure of meeting Orren at the 2006 Palomino World when I was out there showing. Orren was a very busy man that particular day signing prints for everyone at the show, I had a chance to talk with him and he is an awesome man. I walked away with four of his prints all signed and dated by Orren they will be treasured for the rest of my life.
Mixer became a well-known local Western artist during the 1950s and 1960s.
Horses became his specialty, and his work was featured on the covers of Western Horseman, The Quarter Horse Journal, Cattleman and Oklahoma Today.
In 1968, the American Quarter Horse Association commissioned Mixer to paint "The ideal American Quarter Horse," and six other breed associations followed suit. He depicted the ideal pinto, paint, palomino, Appaloosa, buckskin and pony of the Americas. His medium was oil on canvas.
In 1988, he and his wife drove to California to hand deliver his paintings of President Reagan's Arabians and one of Nancy Reagan's quarter horses. Despite his credentials, Mixer remained unassuming about his success.
Mixer was inducted in the AQHA "Hall of Fame" in 1993.
Mixer lived on a 50-acre cattle ranch near Arcadia Lake. He combined his love for horses and art into a lifetime career.
In a 2002 interview with The Oklahoman, Mixer said, "They say I'm famous, but I just don't see it that way."
In the same 2002 article Mixer said, "I tell you what, if I go out and I don't come home, I have enjoyed my life, I don't know what in the world I would do any different."
Mixer was in Texas delivering a painting to a friend when he died April 29, 2008.