CPL (Chronic Progressive Lymphedema)
Equine Health
Tuesday 26th of July 2016 10:31 AM
CHRONIC PROGRESSIVE LYMPHEDEMA Emily and Mike Jewell own a small farm in southern Indiana and they breed and raise Friesian and Andalusian horses. At any given time they care for 10 or more horses, a few of which are Friesian and Andalusian mares. They stand two stallions, an Andalusian and their pride and joy Friesian stallion Keegan. Keegan is the celebrity in their area and has appeared in several magazines such as Horse Illustrated and Horse and Rider. Keegan and some of their other horses have been used in several Farnam ads. Keegan has really made a name for himself and Grace and Beauty farms with all of his accomplishments. Emily understands that when it comes to horses, there is no shortage of maladies that they can suffer from. Take for example one of her Friesians. Emily noticed something was wrong when he was around 5 or 6 years old. Small nodules had appeared on the horse's rear legs, just behind the hoofs. At first Emily thought he had scratches, but when the condition worsened, she researched and discovered that this was the early stage of Chronic Progressive Lymphedema (CPL), a lymphatic disorder that many draft horses, including Friesians are seemingly predisposed to. Emily began treating her Friesian horse to slow the advancement of CPL but results were not positive. In spite of her efforts, the symptoms spread from the right rear leg to the left rear leg, then progressed to the two front legs. She began to fear the inevitable - since there is no known cure, most heavy bodied horses with CPL have to be euthanized around 15 years old. By chance, Emily was approached at a horse show by John Dovenmuehle who told her about Cytowave. "When he said "inflammation reduction" I really perked up." At this point, she was ready to try anything to slow down the progress of this relentless, inflammation based disease. Cytowave did not have a specific CPL based set of therapy signals, but it did have a robust pain/inflammation program that had proven effective with other inflammation based conditions, including cellulitis. "At first, I didn't know what to think. We had tried everything up to this point but really didn't have anything to lose." Emily stated. On April 27th, 2016, Emily began to use Cytowave treatments exclusively on her horse. After only 4 days of treatments, Emily noticed the inflammation had decreased. After the first week, the inflammation in the rear legs and the Cannon bone size had decreased as well. The nodules and the folds were softer, not as hard to the touch and the Cytowave boots were easier to wrap around his legs due to the decreased swelling. Ther shift in her horse's demeanor underscored that positive physical changes were taking place. "He was more relaxed and comfortable. When I let him out in the pen, he was more active, running and bucking," Emily said.
After eight (8) days, the inflammation and Canon bone swelling continued to decrease. The folds in the rear legs were not as thick and were separating. Folds and nodules were softer and more pliable. There was still some dampness and oily feeling in the creases of the back hoof area but overall, the lesions were drier and reducing in size. And for the first time in weeks she was able to massage his legs without any discomfort. "He really began enjoying getting his legs massaged after his treatments," Emily continued. "Overall he just seems really happy. I did not realize how much the disease had slowly robbed him of his spirit over the years because it was so gradual. Once he started feeling better, I realized I was getting my old horse back!" In the span of 10 days, measurements showed that the swelling had been substantially reduced. The Canon bone showed the most dramatic reduction in size, with the left leg going from 12 ½" to 10 ½". On May 11th, Dr. Royal evaluated her horse and he noted that the Cytowave treatments had drastically reduced the swelling and inflammation. He said her horse seemed to be in very good health and his BAR (Bright, Alert, Responsive) was excellent. He was in very good health, sound, with little sensitivity in the folds of his legs. After twenty one (21) days of treatments, Emily continued to see positive results in slowing the progression of the CPL condition. The size of the folds and nodules decreased and lesions in the rear legs were drier and smaller. Pain and sensitivity in the folds of his legs lessened. His overall health improved and it was apparent that her horse felt much better. "At first he stamped his feet and was a bit agitated until he got used to the boots," Emily said. "Now it's a walk in the park for him and he really enjoys the treatments." Her horse will continue with treatments and hopefully completely recover. As for Emily? She was so impressed with the results that she is now working for Cytowave to help promote their new technology. CONTACT INFORMATION: Emily Jewell - Grace and Beauty Farms Carlisle IN 812-691-1839
YOUR EQUINE SOURCE Sponsor's NBHA Pee Wee Division
Equine Articles
Monday 24th of June 2013 05:57 AM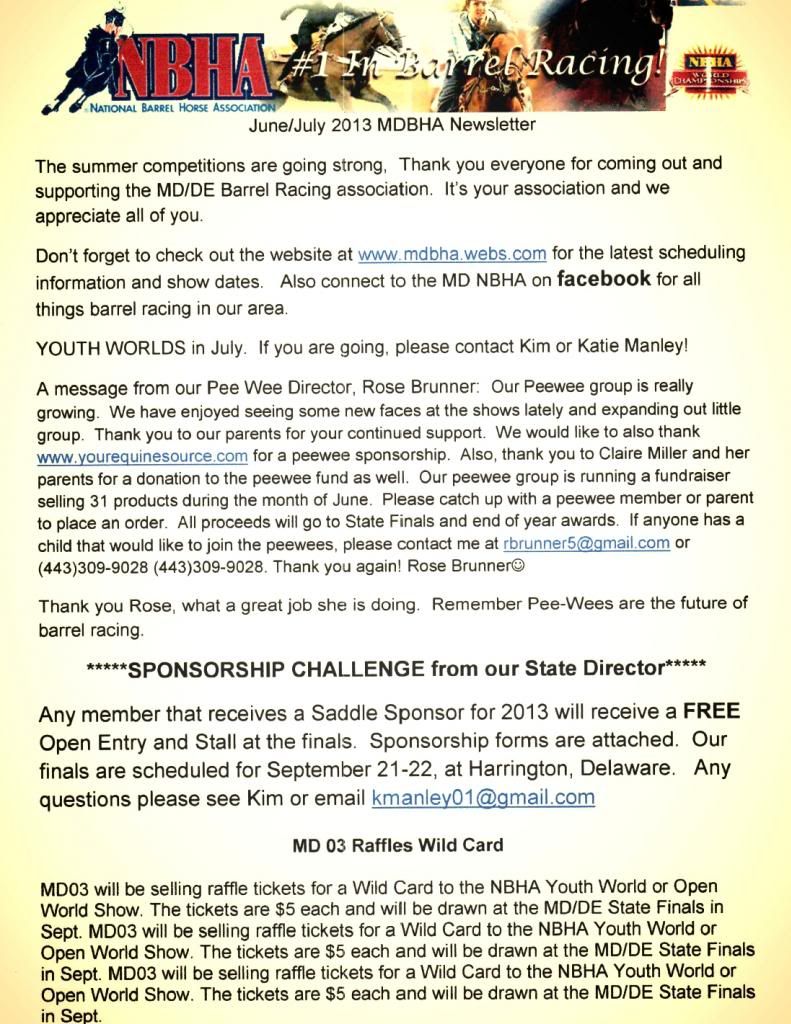 Wolf Teeth
Equine Dental
Friday 4th of January 2013 09:25 AM
"Wolf Teeth" in horses are vestigial premolar teeth that appear in the gap, called "the bars," between the rear molars and the front incisors. They are usually shed before age 3, but if the horse is asked to accept a bit before they are gone, these non-functional teeth can interfere with the bit and cause pain. Behavioral reactions, such as head-shaking and unresponsiveness.
Blind wolf teeth are wolf teeth that are present but may not have erupted through the gum. They may remain completely underneath the gingiva.
There is a school of thought which says that all ridden horses should have their wolf teeth extracted because if they are removed then they cannot cause any problems and it is not a major surgical procedure. With the wolf teeth removed it is also easier to put in a proper bit seat. There is another school of thought which believes that wolf teeth should be assessed and removed when they are likely to be causing a problem. Very few vets or equine dental technicians subscribe to the belief that they are never a problem. Certainly it is useful to assess wolf teeth because some horse owners are reluctant to have them removed unless they are very likely to be causing problems.
Farriers and the horse industry
Equine Feet
Tuesday 25th of September 2012 05:24 AM

According to the American Horse Council, the horse industry supports 1.4 million jobs and contributes $39 billion in direct economic impact to the U.S. economy ($102 billion indirect impact). The horse population in the U.S. is approximately 9.2 million. The National Economic Impact of the U.S. Horse Industry study broke the data down into the following:
Racing 844,531
Showing 2,718,954
Recreation 3,906,923
Other 1,752,439

Of the 4.6 million involved in the horse industry, 2 million are horse owners who are involved in the following:
Breeding 238,000
Competing 481,000
Other 1,100,000

Of these 2 million horse owners, more than 70 percent live in communities of 50,000 or less. There's a great disparity among horse owners. Approximately 34 percent have an annual household income of less than $50,000, whereas 28 percent have an income of $100,000 or more. This wide disparity in income disproves the common belief that horse ownership is only for the wealthy.

The horse industry directly employs 701,946 people (full-time, part-time and seasonal), which equates to 453,612 full-time equivalent jobs. These direct full-time equivalent jobs are in the following segments of the horse industry:
Racing 146,625
Showing 99,051
Recreation 128,324
Other 79,612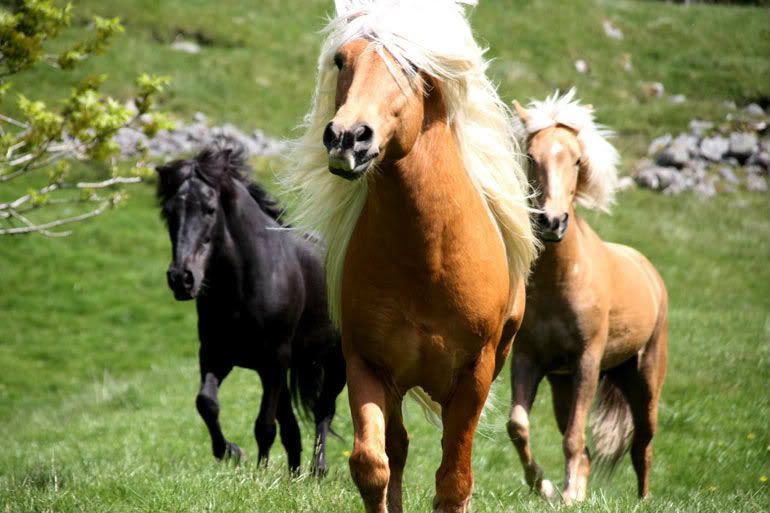 Farrier statistics
There are more than 25,000 farriers in the U.S. In contrast, the UK, with a population one-fifth of the United States' has one-tenth the number of farriers (2,500) because the government legislated registration process makes it legally mandatory for farriers to register before performing farriery work.

In general, countries where farriery is unregulated (anywhere but the UK), there will be more farriers. Though this statistic would suggest that farriers in the UK would be in much higher demand than in other countries, the answer is not so simple. Yes, UK farriers are in high demand because there aren't so many of them and the certification process they went through acts as a stamp of approval, which makes horse owners more trusting of their services, but farriers in other countries are also in high demand if their experience and training proves them out.
Farriers work with all different horses—racing, showing, recreation, etc.—all across the country, wherever people own horses. Using the statistics for the U.S. as an example, of the 700,000 who are employed in the horse industry, farriers represent 3.5 percent of the total population.

Employment for farriers:

Good farriers are in high demand. According to the American Farriers Journal 2012 Media Information and Marketing Guide, most of the nine-million-plus horses in the U.S. have to be trimmed and shod multiple times a year, and all but a few owners choose to do the job themselves, which makes for one large industry to tap into. Since farriery is primarily a self-employed occupation, if you have the experience and training, you can charge whatever the market will bear, potentially making it quite a lucrative line of work. Salary, however, is also determined by a number of other factors: how well you market yourself, manage your finances, follow through on the jobs you get, your clients—as with any self-employed occupation.

U.S. farrier salarie:

These are broad generalizations, but in general, working on race and show horses pays much more than working on pleasure horses. Standard 8-hour days in urban/rural environments can yield much less than $100,000 year, whereas working on race or show horses can get you much more than $100,000 plus per year. In some cases the wage gap can be as great as $40,000 for pleasure horses to $200,000 or more for race and show horses.

An American Farriers Journal survey in 2012 found that the average annual salary for full-time farriers in the U.S. was reported to be $92,623 per year and for part-timers, $21,153. This amount is an average and varies according to experience level, training, etc.
A 2010 survey found that gross income for both full-time and part-time farriers averaged $73,108, a 16 percent increase from 2008, which backs up the figures from the previous survey when averaging out both full-time and part-time salaries.

UK farrier salaries:

In the UK, another massive market for farriers after the U.S., pay rates work a little differently due to government regulations. The Farrier Registration Council sets apprentices wages according to a set guideline that's based on the minimum wage. Apprentices aged 16 to 20 are exempt from the minimum wage and get paid according a wage matrix that starts at 52 percent of minimum wage for 16-year-old first year apprentices (£3.22 per hour) and goes up to a maximum of £6.19 in year four for 19 to 20 year olds, or for those 21 and older the maximum wage starts at age 21. A typical annual salary for apprentices comes out to less than £10,000 a year.
But that rate can jump up quickly. Miles Williamson-Noble, registrar at the Farriers Registration Council, states that annual salaries of £25,000-£30,000 are possible not long after qualification and, like the U.S., rates go up from there based on experience.

Anywhere in the world, salaries will fluctuate based on experience level, full-time vs. part-time (which usually relates to the level of experience), distance travelled to the job site, gas prices, insurance and other typical factors that self-employed workers have to take into account.
It's all these expenses that determine the net amount farriers wind up with at the end of the year. So making money as a self-employed farrier is not just about how much you charge or how many clients you have, it has a lot to do with how good you are with your finances.

Keith Templeton writes about farrier schools and employment at The Farrier Guide.
10 Tips for Choosing the Best Hay for Your Horse
Equine Health
Tuesday 27th of December 2011 01:41 PM
1. It's what's inside that counts. Ask that one or several bales are opened so you can evaluate the hay inside the bales. Do not worry about slight discoloration on the outside, especially in stacked hay.
2. Choose hay that is as fine-stemmed, green and leafy as possible, and is soft to the touch.
3. Avoid hay that is overcured, excessively sun-bleached, or smells moldy, musty, dusty or fermented.
4. Select hay that has been harvested when the plants are in early bloom for legume hay or before seed heads have formed in grasses. Examine the leaves, stems and flowers or seed pods to determine the level of maturity.
5. Avoid hay that contains significant amounts of weeds, dirt, trash or debris.
6. Examine hay for signs of insect infestation or disease. Be especially careful to check for blister beetles in alfalfa. Ask the grower about any potential problems in the region.
7. Reject bales that seem excessively heavy for their size of feel warm to the touch, as they could contain excess moisture that could cause mold, or worse, spontaneous combustion.
8. When possible, purchase and feed hay within a year of harvest to preserve its nutritional value.
9. Store hay in a dry, sheltered area out of the rain, snow and sun, or cover in the stack to protect it from the elements.
10. When buying in quantity, have the hay analyzed by a certified forage laboratory to determine its actual nutrient content.
Remember that horses at different ages and stages of growth, development and activity have different dietary requirements. Consult your veterinarian or a qualified equine nutritionist when formulating your horse's ration. He or she can help you put together a balanced diet that is safe, nutritious and cost-effective.
Horse Thrush Treatments
Equine Feet
Sunday 14th of August 2011 11:22 PM
Perfectly Healthy Frog
(Above)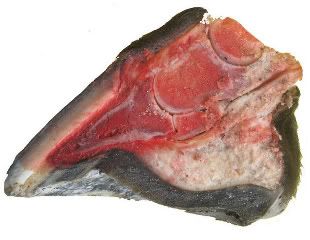 This is what a cross cut of a sound frog is supposed to look like.
(Above)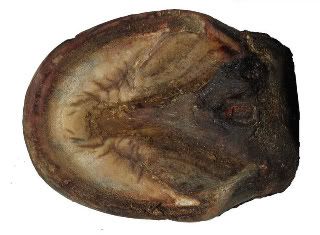 When the frog suffers thrush it´s protective capabilities become impaired and the nerves in the digital cushion become exposed and irritated.
(Above)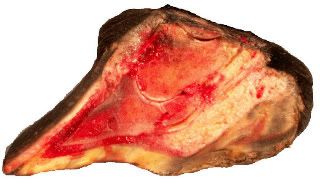 This is what frogs usually looks like. The frog is diminished to a spongy tissue with no protective capabilities.
(Above)


As you have discovered, there are many treatments that are supposed to clear up thrush, but don't. That's because there's a critical part of the treatment that most owners do not recognize: Cleaning up the affected area before you treat the problem. Here's a quote from Michael Wildenstein, American Farrier's Association, Certified Journeyman Farrier, resident farrier at Cornell University's large animal hospital: "Thrush is the most common bacterial infection (of the hoof); it reduces the protection by the insensitive frog. Thrush that invades the central sulcus of the frog can enter the digital cushion, causing inflammation of the sensitive tissue. Treatment of thrush includes daily cleaning of the infected area with a brush (stiff enough to scrape out the debris). Then, and only then, treat the area with a suitable antibiotic preparation.

1. Thrush relief gel usually kills the thrush-causing organisms overnight. Just remember to keep the horse's environment clean and dry to prevent reoccurrence.

2. Equine Relief Body Wash can be used for horse hoof problems like thrush. Follow this wash with thrush relief spray and repeat up to three times in one day. This, too, can usually cure thrush overnight.

3. If you use a home-remedy horse thrush treatment like iodine or betadine, be advised that you will have to treat the affected hoof for at least a week and that, in many cases, the thrush comes back.

4. You can avoid equine veterinarians by using things like chlorine bleach and hydrogen peroxide, but keep in mind that these agents may stain or irritate your horse's healthy skin.

5. Treatment for horses with thrush includes twice daily picking of the feet, taking special care to clean out the two collateral grooves and the central sulcus. The feet may then be scrubbed clean using a detergent and/or disinfectant and warm water, before the frog is coated with a commercial thrush-treatment product, or with iodine solution, which may be soaked into cotton balls and packed into the clefts. There are also several home remedies, such as a hoof packing of sugardine (a combination of sugar and betadine), powdered aspirin, borax, or diluted bleach. It is best, however, to speak with the horse's veterinarian, to be sure that these home remedies are effective and, more importantly, safe for use on horses.

Horses with thrush, or those at risk for contracting it, are best kept in a dry, clean environment. Daily cleaning of the hooves also contributes to the prevention of thrush. In general, thrush is relatively easy to treat, although it can easily return and it can take up to a year for a fully healthy frog to regrow after a severe infection.
---
Response 1
Wednesday 23rd of April 2014 04:43:28 PM
Submitted by: Terry Whitman
If I may introduce myself to you. My name is Terry Whitman. I am a farrier and lameness specialist. I am very interested in educating the horse owner about the Natural Balance trimming and shoeing. This is a completely unique procedure for the equine foot. I am a member of the Equine lameness prevention organization (ELPO) in Colorado. I have a power point presentation that we offer to the public. This is a must see for any horse owner, farrier and even vet. If you are interested please go to our website and click on the contact us or respond to this email. You also can call Terry-817 597 8782 or Rebecca- 337 309 3890. Thank you so much for your time. Terry Whitman & Rebecca Attales Whitman Farrier Service, LLC. whitmanfarrier@icloud.com
---
The Secret Benefits of Equine Massage
Equine Articles
Thursday 19th of May 2011 04:04 AM
Article by Jane Wesson

Equine Pacifica Equine Massage School

Horse therapeutic massage has been rapidly transforming into a vital inclusion of a great
many clever equine owners' organization of health-care experts. These people have learned


Even so, nobody has translated that collection into the tucked away bonuses for you, the particular horse owner.
And unless you have pleasantly discovered the particular returns regarding you and your horse, you almost certainly have no idea the key reason why massage is actually not simply a one per year luxury.


The average report of equine massage attributes flows as such:

Dilates blood vessels
Returns blood back toward heart
Helps drain lethargic lymph material
Improves muscles tissue tone
Prevents adhesions
Stretches connective tissue
Lessens rigidity in addition to swelling
Has a stimulating or possibly sedative result regarding nervous system
Brings awareness to the region being massaged

Precisely how many equine owners genuinely know how this kind of collection could affect
them? Quite frankly, hardly any of them do. Unless you have experience in the field of
biology as well as physiology in high school or college, most likely this particular age
old checklist is simply Greek to you!

Let's at long last bring up to date and translate this particular list directly into how
equine bodywork rewards you, the equine owner. We're going to begin with
condensing the actual collection into three principal topics: circulation, muscle
performance and mental acuity.

CIRCULATION: Therapeutic massage raises blood flow for all parts of the body. All of
the cells of the body require oxygen and also nutrients brought to them, through the
circulation of blood, to come up with brand new cells, produce energy, export toxic
compounds and keep all cellular functions. Weak circulation creates a decline in each of
these areas. Fundamentally, you now are working along with a half-baked horse that can
quite possibly possess various health difficulties.

MUSCLE PERFORMANCE: Bodywork physically breaks down the particular knots along with
contracted muscle tissue that cannot do their job properly. This can lead to far better
muscle quality and much more complete and well balanced muscle action. Your horse is
comprised of 700 skeletal muscles and that is 60% of the body mass of your horse! Working
a horse with restricted, consistently contracted muscular tissue is the same as operating
in a state of resistance. Your horse is employing a great deal more energy to perform and
accomplishing significantly less than its optimum potential and headed for injury.

MENTAL ACUITY: Therapeutic massage talks to the neurological system in such a way
that your particular horse will encounter an important state of relaxation, mental
clarity and self recovery. A horse functioning in a state of constant psychological
stress along with reduced focus will never perform to their total potential.

When bodywork is completed for a steady basis the results build upon themselves with
time. Once per year massages are fundamentally the same in principle as placing a
band-aid on underlying problems and the horse in no way reaps the benefits of regular
recovery. However, regular massage not only rewards the horse, it also benefits
YOU, the horse owner, and here's how:

You could experience a lowering of vet visits which ultimately may keep
the horse out from the lay-up stall saving you time and money.



You may have a horse that can move more efficiently,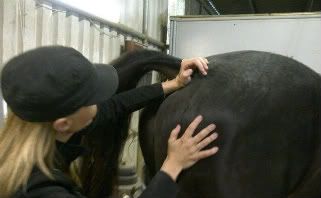 with less pain and achieve more physically, which will equal an even better overall performace for you.

You could have a horse that suffers from less tendon and ligament injuries equaling greater over performace and less lay-up time; perserving you in the saddle. You may possess a horse that recovers quicker from workouts and is feeling ready to work on a regular basis giving you a willing horse to ride.

You could have a much happier mount which has a better work mind-set making your regular ride a pleasure as opposed to a fight.

Whether you ride for enjoyment or performance, equine massage is an easy supplement to
your horse's health care plan which can help you stay within the saddle on top of your
performance .

Thank you for your consideration.

Jane Wesson
(909) 261-0964
---
Response 1
Thursday 19th of May 2011 11:18:58 AM
Submitted by: Marya Miller
Comment from our Linked In Connections: Great to see someone speak with such knowledgeable common sense. I've practiced massage on horses for years and find it particularly effective for helping rehabilitate so-called "behavioral" issues (which often actually stem from pain). In addition to the other benefits Ms. Wesson lists, massage stimulates the parasympathetic nervous system, putting the horse's brainwaves into a relaxed Alpha state. (When they lower their heads and start yawning, you know it's working!)
---
Blue Mountain Rider
Equine Articles
Thursday 20th of January 2011 09:55 AM
Blue Mountain Rider
Mary Benson and Hedy Strauss
Xlibris
Paperback, 2009, $19.99
Also available in Hardcover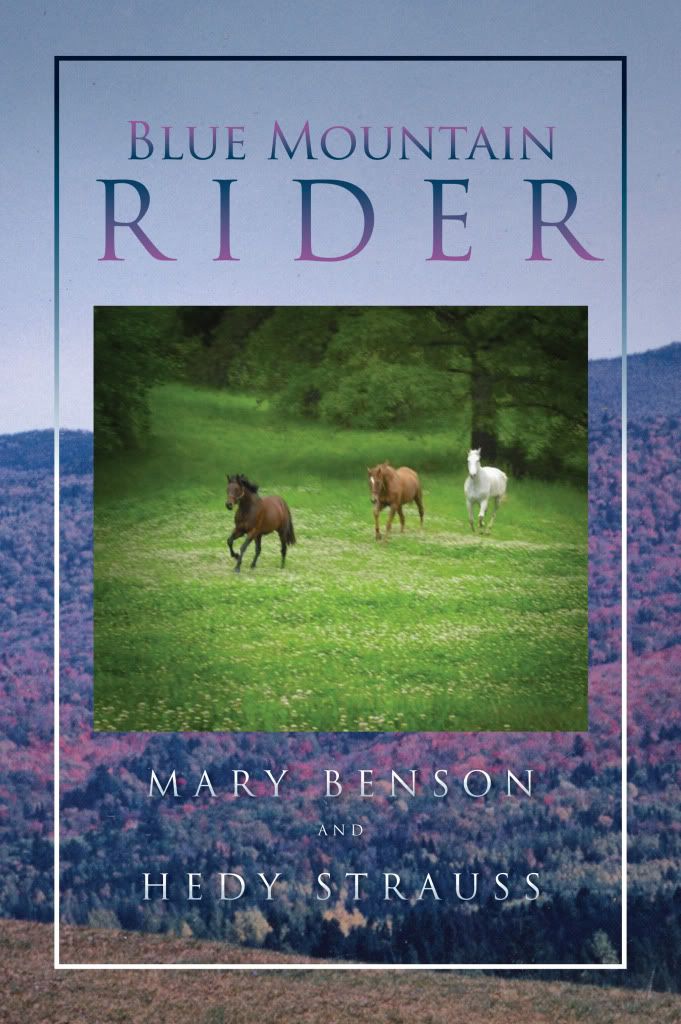 ISBN: 978-1-4415-7108
Available on Amazon or www.xlibris.com
Reviewed by Carol M. Upton
This collection of poems reflects our deepest emotions, ambitions, desires, hopes, fears, and dreams. It illustrates love and respect for an animal that has earned its way into our structure of life. ~ Hedy Strauss
Blue Mountain Rider is one of the few poetry collections dedicated to a celebration of the horse. Mary Benson and Hedy Strauss bring us an exceptional anthology that describes the countless ways in which these unusual creatures have enriched our lives.
In the opening section, 'Horse Evolving', we are treated to elemental images that remind us why we are often so drawn to horses. In 'Wild Spirit' Strauss writes one of several poems about the mustangs whose dramatic images appear in current news of round ups and herd management: "The sound of hoofbeats/ fill the air/ Wild prairie phantoms – disappear!" Benson offers us the ethereal 'Night Ride' plucked from childhood dreams: "Oh, the desert sings to me/ And I ride/ In windswept flight, aloft and free/ Forever in this enchanted land, Pegasus and me."
Other sections include poems dedicated to specific types such as the Appaloosa, the hard-working mules of history, and the world's wild horses, from the Steppes of Asia to Australia and the Moors of Brittany. Another cluster reminds us how horses have served throughout history, in city streets and country fields, on police patrol or cutting cattle. Special relationships between girls and horses are explored in such tender poems as 'Pigtails and Ponytails' and 'Mane of Red and Gold'. There is sadness, too, in Benson's pondering: "Oh, how will we say farewell?" and Strauss acknowledging how "It will break my heart the day you die."
This book is a memorable gift for any horse-lover, but you'll likely want a second copy for your bedside table, so you can savour these evocative lyrics whenever you wish.
Combining their love of horses and the outdoors, Mary Benson and Hedy Strauss immigrated to the Adirondack Mountains in Upstate New York where they met. Whether it is preserving wild mustang heritage or saving horses from slaughter, both women are passionate advocates for animal welfare. Visit Mary and Hedy at www.bluemountainrider.com
Just Being a Mare
Equine Health
Wednesday 19th of January 2011 10:00 PM
Just Being a Mare
By Betsy Kelleher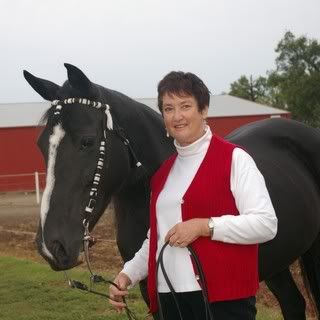 If you are excusing a mare's misbehavior with those words, "just being a mare," a different perspective would be more effective. Husbands have been known to shrug off a wife's emotions by saying, "she's just being a woman," and it only makes things worse! Mares are like women. They are both female and their problems deserve to be taken seriously.
Wise mare owners recognize hormonal behavior, but they don't use that as an excuse for a lack of understanding. When mares behave badly, look for a physical reason or a training issue before blaming everything on hormones! You can't fix something until you know what needs fixing.
Let me tell you about a certain mare that became dangerous to ride. Everyone told her owner to just trade her in for a gelding. But this owner kept looking for an answer and didn't give up. She finally found someone to look at the situation objectively, and the solution had nothing to do with gender. It had to do with a badly fitting saddle. Once that was changed and the mare was comfortable, this owner was able to enjoy her mare and find great satisfaction in the relationship.
A friend of mine bought a mare that kicked at other horses while ridden. Instead of accepting this as "mare behavior," she worked to change it. It took consistent effort and some help from a trainer, but this same mare now can be ridden safely with other horses.
Distinguishing "mare behavior" is the key. In a natural herd, mares have a great responsibility to take care of things and it helps to understand their instinctive role. When a mare is acting rude or dangerous, modification is needed. If the problem really is hormones, there are several natural supplements that can help a mare become calmer. I've used chamomile tea as well as Mare Magic with good results. Quite often, it is a training issue. Mares definitely need good training to help them overcome their emotional dispositions. Pain can often cause bad behavior, whether it's a saddle or bit, or a need for chiropractic care. Riders can seek help from a good trainer to be sure the way they ride isn't causing the problem. Some mares have experienced past trauma or abuse that causes unusually fearful behavior. Extra patience and understanding plus basic exercises can help create needed confidence and trust.
Ride a gelding and put him away, and he probably won't care. But a mare wants a close relationship (just like a woman). She wants your full attention and appreciates extra fussing and grooming - my Lady gives me hugs as I put her bridle on. If a woman feels loved, she will do anything for her man. A mare will give her all and more for an owner she trusts. Treat her like a lady, or you may regret it!
Full stories of both mares mentioned in this article are found in a book compiled by Betsy Kelleher, along with many other inspired tales about mares. For more information about MARES! (ya gotta love em)…Fifty Stories to Aid & Inspire Mare Owners, visit Betsy's website: www.goduseshorses.com and view her You Tube video at: http://www.youtube.com/watch?v=EKCh9yHGSyw
The Most Common Horse Show Mistake-Changing Routines
Equine Training
Monday 8th of November 2010 04:54 PM
Article Credit-Lynn Baber
Showing horses successfully takes a great deal of time, commitment, expertise, and financial investment. But, whether from frustration or nerves, many riders get to the show and set themselves up to fail before they even walk into the arena.
The number one mistake exhibitors make is to keep training their horse once they arrive at the show. Horses go to shows to perform what they already reliably know how to do. If you are not getting consistently good rides at home, you probably aren't going to luck into a winning performance at the show.
Warm-Up
Different horses have different needs for pre-show preparation just like their riders. Each horse will have its own best type and length of warm-up before a competition. Some horses just need their muscles warmed up with a light trot and others need an extensive work-out before they are able to get focused on the job at hand. The owner or trainer needs to know when their horse hits that happy place between fresh and washed-out and keep the warm-up routine consistent and effective.
Many trainers work their horses too hard before the show and get a lackluster or poor performance because the horse's best was left in the warm-up arena. Others don't allow their horses adequate time to work the kinks out and get both mentally and physically ready to give their best.
Don't Pick a Fight
In nearly every warm-up pen across the country horses with shined coats, polished hooves, and wearing spotless tack are confronted by finely attired riders who suddenly begin to pick on them just before they enter the class to compete. Such riders try to get one more little bit of training done by spurring a gleaming side or bumping a tender mouth with a correction bit, as they frantically try to train their horse in the few minutes that remain before their number is called.
Why pick a fight with your partner right before you go in to "dance" together? Riders who get after their horses (usually for no good reason except nerves and inexperience) with such behavior are like a bride who slaps the groom across the face right before she walks down the aisle to marry him. Sure doesn't make much sense and does not produce great honeymoon results.
What would happen on "Dancing With the Stars" if the professional dancer stomped on the toes of their celebrity partner and yanked a delicate arm trying to make a final "adjustment" in their position right before taking the floor before the studio audience? Do you really think such an outburst will improve the score the two earn from the panel of judges?
Stick With What Works
Take the saddle and bridle you use at home along to the show. If your training tack is not the same as your show tack, spend the last week before your event riding in your show outfit at home. Don't change bits, don't change spurs, and don't adjust your stirrups right before a show.
Maintain the feeding and riding programs you use at home at the show. Make as few adjustments as possible to the routine your horse relies upon.
BeHorse Expects the Partner
Your For every rider who gets to a show and wonders where the horse is that they ride at home, there is a horse who wonders who that stranger is who showed up to ride them as well. If you want your horse to perform the same way at the show as they do at home, then ride them the same way you do at home.
Show your horse at the show. Train your horse at home. Your horse cannot be consistent if you are not consistent. Pick a fight with your horse and you will get resistance. Respect your horse and he or she will return the favor.
Go show, but have fun!